location | pricing | program outline | schedule | registration form | about Bára & Sep | registration faq
Registration closed.
We are very happy to announce a workshop with
Bára & Sep
from Ghent.
18-19 January 2014 in Luxembourg.
In conjunction with the workshop, there will be a party Saturday evening.
Location
Both party and workshop will be held at:
L'Ecole Privée de Théâtre Luxembourg
595 Rue de Neudorf
L-2020 Luxembourg-Neudorf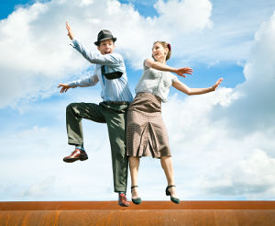 Pricing
| | |
| --- | --- |
| Saturday + Sunday (all classes, 8 hours) | 70 euros |
| Only Saturday (3 hrs Lindy Hop, 1 hr Musicality) | 40 euros |
| Only Sunday (3 hrs Lindy Hop, 1 hr Tap dancing) | 40 euros |
| Party (free for workshop participants) | 5 euros |
If you come from outside Luxembourg we can help you with hosting.
Program outline
The program consists mostly of Lindy Hop classes, accessible for anyone who has followed the beginners course. Don't worry if you're more advanced or if you feel like a beginner: the classes will have something for dancers of all levels.
In addition, we have a 1-hr class on musicality on Saturday, and a 1-hr tap dance class on Sunday.
The musicality class will focus on how to move to (and with) the music (this is not a sitting class!).
Schedule
| | | |
| --- | --- | --- |
| | 13.00 – 17.30 | classes |
| | 21.00 – 01.00 | party |
| | 13.00 – 17.30 | classes |
Both classes and party will take place in Ecole de Théâtre.
About the teachers

Sep and Bára are actively developing their dancing abilities on dance floors around Europe. Their similar view on dancing and common joy of dancing together led to their cooperation. They are involved in a number of projects such as performing groups The Dipsy Doodles and Swingzapoppin where old Jazz dances and Lindy Hop are the main theme. In addition, they teach regular classes at the Crazy Legs Dance school in Ghent.
Bára and Sep share the same passion about dancing which is not exclusively focused on lindy hop. They love to explore new ideas and approaches and are inspired by any kind of performing arts and any kind of music.
Music has a large influence on their dancing style as well as on their approach to teaching. They believe in own expressivity and in using the endless options that music offers. The main focus in their classes is for you to have fun together with your partner.
They are both active social dancers. You can meet them in the jazz bars around Ghent, dancing and enjoying great music. They also travel a lot around Europe to experience the passion for Swingdance, to teach workshops, to attend workshops or join competitions.
Registration FAQ
Dancing and physical fitness
Dancing is a physical activity and the association, teachers and staff assume no liability for personal injuries or loss of, or damage to, personal property. If you have any doubts as to your physical abilities, please consult your physician before participating. Enjoy and dance at your own risk.