Charleston Autumn Continuation Series – 2023
THIS EVENT IS POSTPONED ! STAY TUNED FOR NEW DATES !
After the success of our Charleston summer series, we're delighted to announce that our energetic Charleston classes continue this Autumn!

Course description
Charleston is a big part of Lindy Hop and Jazz dancing in general! We took some time before the summer to explore Charleston couple dancing and would like to offer a continuation of these courses for our many Charleston dancers 🙂 
The series continuation will run over several Sundays throughout the semester. We offer a continuation course for the different levels we had in summer. So please read the level descriptions carefully before you choose yours! Do not hesitate to repeat a level as we plan to adapt our program: consolidate your knowledge by shedding a different light to moves you have already learned. Similar ideas and moves, but different approaches and variations are on the menu! Please note that we do not open an absolute beginner charleston course this time.
Classes are based on the ELEF approach: everybody leads, everybody follows.
These courses will run over the months of September, October and November on certain Sundays. Check the dates and schedule below and mark them in your agenda!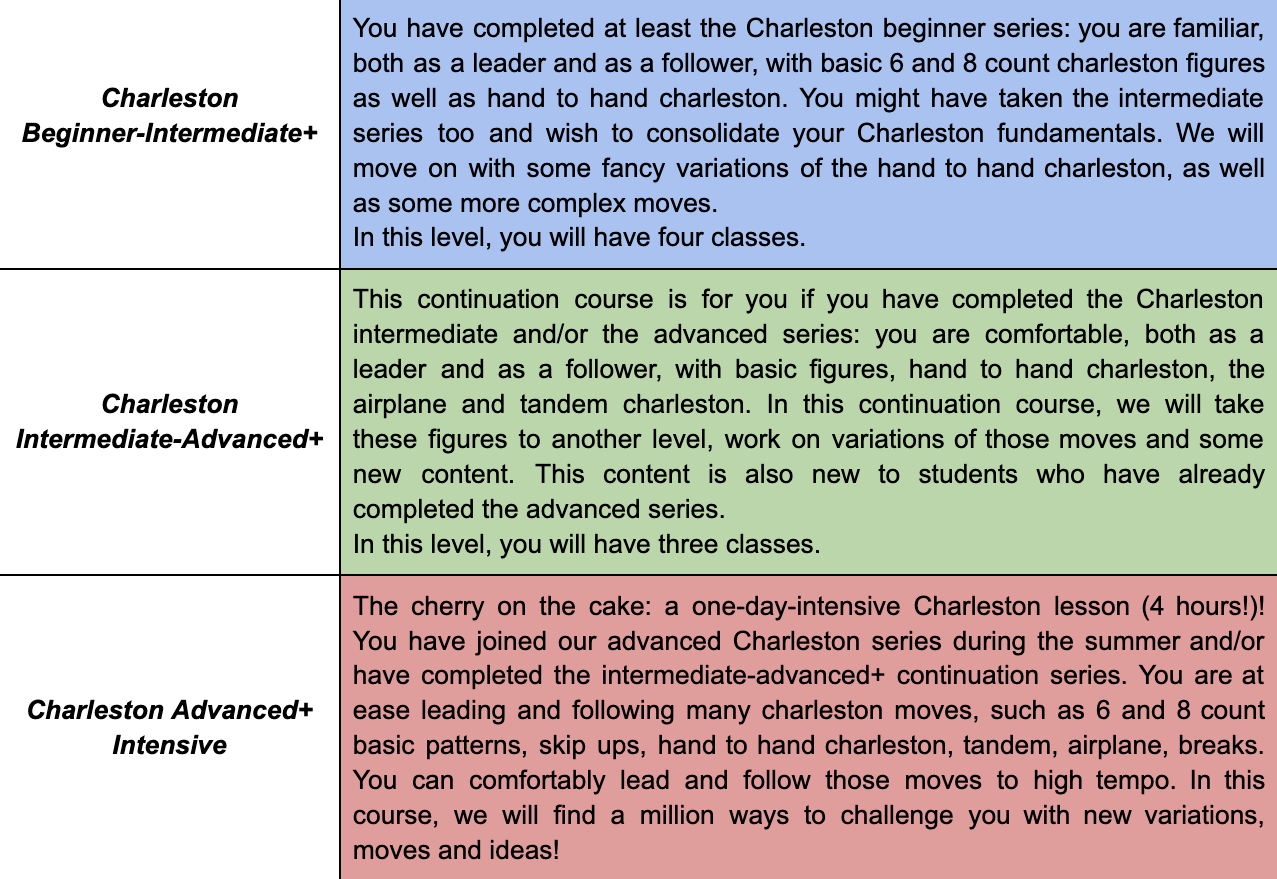 Teachers
Eda & Freya, who are part of our inspirational local teacher team, will lead the Couple Charleston Summer Series 2023.
Did you know that all our local teachers are non professionals? 😲 Their passion for Swing inspires them to train and to work hard, to prepare your weekly courses by gathering material, breaking it down for you to learn it and choosing fine tunes for you. Their wish to share their joy of dancing takes them to commit to spending their weekly evenings with you for a full semester, after their day time jobs. 👏❤️
Calendar
The couple charleston series will run occasionally on Sundays, at varying times. Please check your agenda carefully 🙂 

Price
The price for the Beg-Int+ continuation series is 100€. 
The price for the Int-Adv+ continuation series is 75€.
The price for the Adv+ intensive course is 50€.
A reduction of 10€ applies if you sign up for more than one continuation course. 
🤗 You can also pick and chose your classes. The price for a drop in class is 25€. Please leave a note in the registration form and specify which classes (date and level) you would like to attend.

**For Kulturpass holders (or equivalent from your country of residence) prices are :
Beg-Int+ continuation series 25€
Int-Adv+ continuation series 18€
Adv+ intensive course 12€
A reduction of 10€ applies if you sign up for more than one continuation course. 
Drop-in class 5€ – see conditions above.
Please note there are limited spots for Kulturpass holders.
Location
Note that all classes will take place in Altrimenti. The majority of the classes will be held in Salle Rheinsheim, which is the main room where we usually dance in Altrimenti.
ℹ️ We're lucky that the rooms in Altrimenti have a proper and good wooden floor. In order to protect that floor, indoor shoes are required for all dancers! Please make sure to wear shoes that do not leave marks on the floor.
THIS EVENT IS POSTPONED ! STAY TUNED FOR NEW DATES !
Registration
Please note that, when you sign up for several continuation courses, you will get a reduction of 10€. Our registration system cannot calculate this. So please do the counts yourself  🤗

Swing Dance Luxembourg's terms & conditions apply to the registration for any of our series.