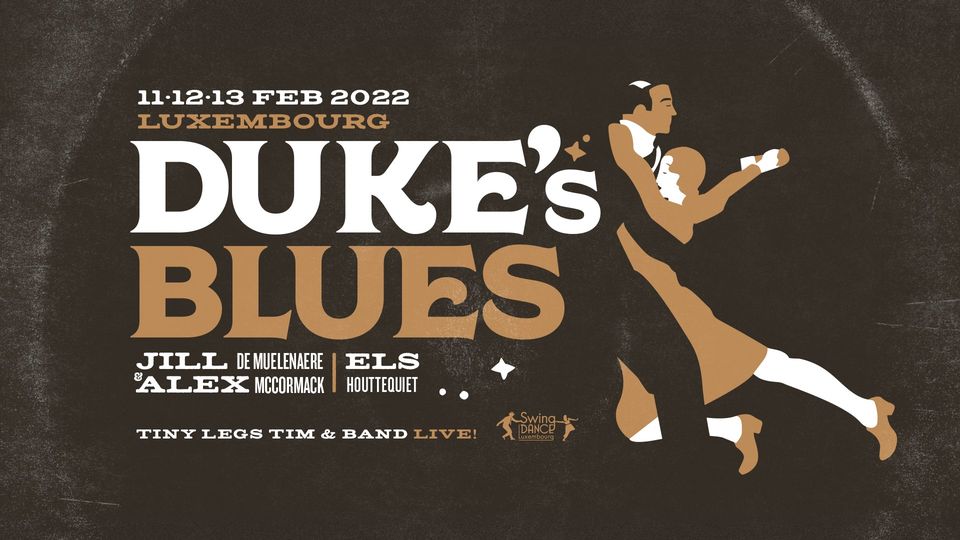 We are delighted to present you
DUKE'S BLUES 
When:  11 – 12 – 13 February, 2022
What:
We are glad to announce our upcoming weekend workshop in February dedicated to Blues dancing with couple and solo tracks, special topic classes, live music, parties and many extras! Get ready to meet our talented teacher line-up of Jill De Muelenaere and Alexandre McCormack for couple blues dancing and Els Houttequiet for solo blues tracks. Furthermore, we've got you covered with the finest blues tunes by Tiny Legs Tim and his band!
Schedule: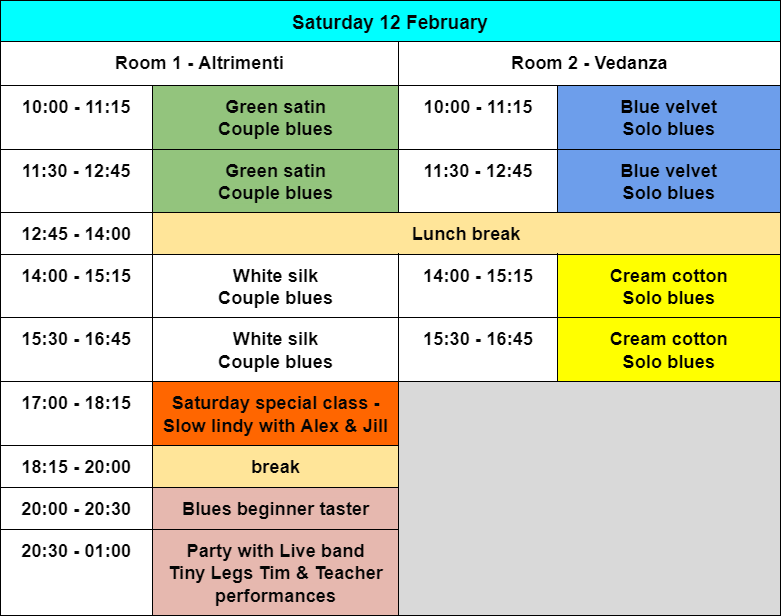 * Provisional schedule, changes may be applied depending on governmental guidelines for dance events.
Registration
More info on registration will be released in due time. Please follow our Facebook event page or newsletter for new announcements.
Classes
You can take Couple or Solo Blues individually or combine the ones of the same level for the brave ones ! Which Track should you choose? Please read the track descriptions carefully:
Couple blues – Green Satin – Intermediate:
This track is for you if you have taken at least 1 semester of Blues classes and you are familiar with the basic moves, as well as closed and open positions in couple Blues. Duke's Blues might be your first Blues festival. In this track, our teachers will take time with you to feel the Blues, to expand your repertoire of bluesy moves and to explore both your individual dancing and your connection with your partner.
Please note that this is not a class for absolute beginners. You can combine this track with the Cream Cotton Solo Blues!
Couple blues – White Silk – Advanced:
You don't dance the Blues, you live the Blues! You know what Blues feels like after at least 2 years of Blues classes and maybe already some international Blues festivals. Now is the time to connect deeper with the different grooves of Blues music, to challenge yourself with faster blues rhythms, to improvise, to bring your connection and interaction with your partner to the next level! 
You can combine this track with the Blue Velvet Solo Blues track!
Solo Blues – Cream Cotton – Intermediate:
In this track you will find your inner Blues dancer! This track is for you if you have started Blues dancing recently or if you have taken at least 1 semester of solo jazz classes and want to discover solo Blues dancing. We will develop and enrich your solo Blues vocabulary, work on body movement and play with different textures and tempos.
Please note that this is not a class for absolute beginners. You can combine this track with the Green Satin Couple Blues track!
Solo Blues – Blue Velvet – Advanced:
You are an experienced dancer, who has taken Blues and/or solo jazz classes for at least 2 years and for whom Duke's Blues might not be the first international Blues festival. You're not afraid of improvisation and you definitely have the Blues in your body. You're eager to grow as a dancer by adding stronger rhythms to your dancing, playfulness to your interaction with the music and meaning to your body language.
You can combine this track with the White Silk Couple Blues track!
Special topic classes
Friday special topic class – Solo Blues roots with Els:
experience the African rhythm in solo Blues and connect your moves to the original groove. This class is open to dancers with little blues dance experience, but not open to absolute beginners. You should have at least 6 months experience in Blues dancing or solo Jazz. This solo blues class is not part of the above mentioned workshop tracks. **LIMITED SPOTS!**
Saturday special topic class – Slow Lindy with Alex & Jill:
learn how to slow your Lindy Hop down in a different way. Join this special topic class if you have at least one year of experience in Lindy Hop. You are able to dance basic rhythms and figures such as swingout, tuck-turn and lindy circle. This class is not part of the above mentioned workshop tracks.**LIMITED SPOTS!**
Teachers
Jill De Muelenaere & Alexandre McCormack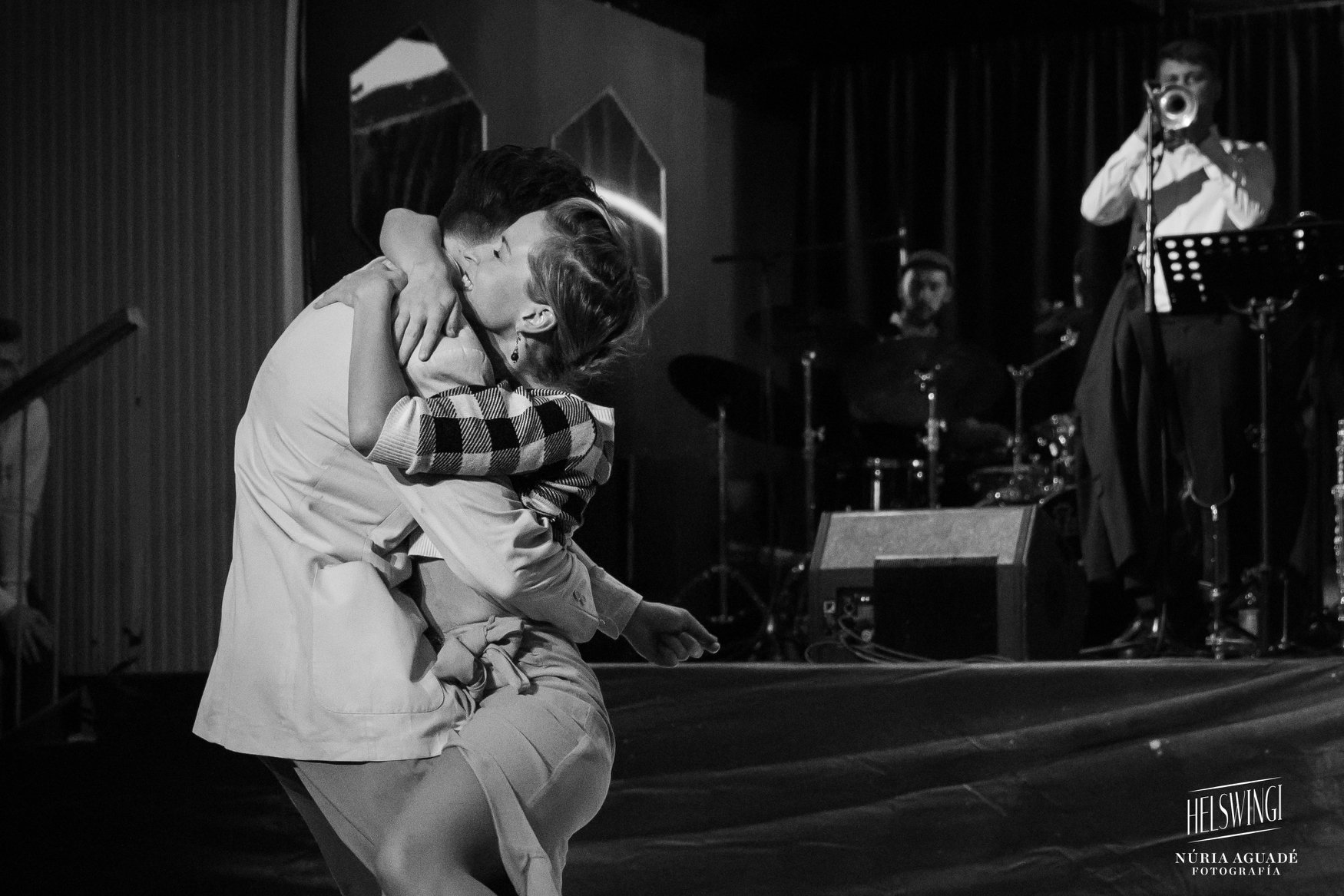 Jill & Alex have both been dancing from a very early age, however coming from very different backgrounds: Alex is Benelux vice champion of breakdancing and has taught for over 13 years, whereas Jill came from a prestigious contemporary dance school in Belgium. Having both fallen in love with the old school style of Lindy Hop and Authentic Jazz, they focus on individual expression and different perspectives on dance techniques. They'll challenge you in staying controlled yet uninhibited; leave great individual freedom yet still remain a partnership, to dance the move instead of doing the move. Jill and Alex are very much inspired by the "old clips" showcasing a raw style of Lindy Hop and they have at heart to keep on exploring the African roots of the dancing too. They love flashy steps, fast dancing and aerials but also enjoy a smooth slow drag blues. Back in Brussels they train with their performance group, the Old Soulz.
Els Houttequiet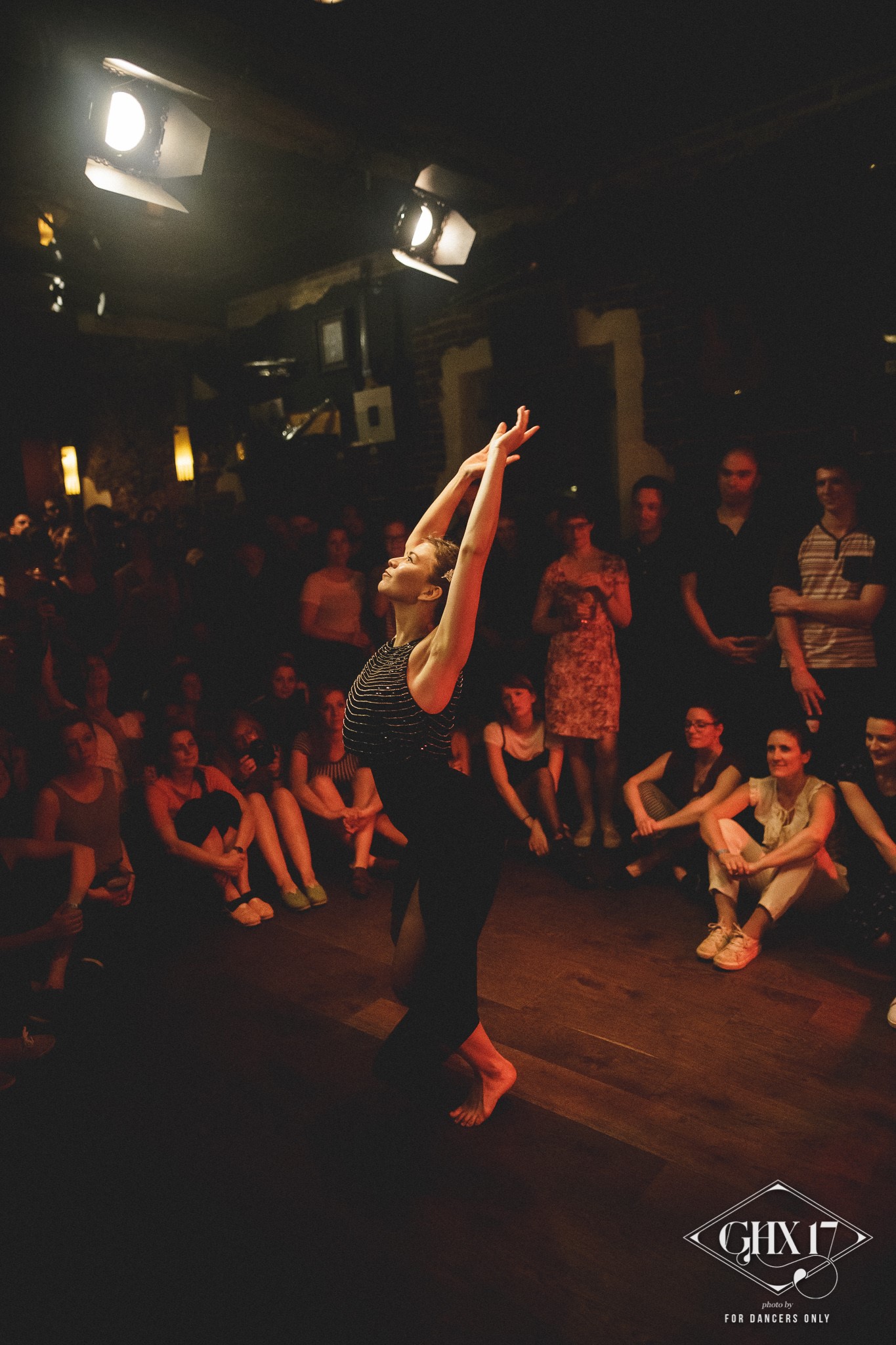 Els is a blues and jazz dancer based in Ghent (Belgium). She was first influenced by modern dance which opened her eyes for body awareness and techniques. Later on she discovered the joy of swing dancing after which she started teaching lindy hop. But very soon also solo authentic jazz and blues caught her attention.
Els likes to dive into different dances that carry the same african roots (ragga, afro house, dancehall, blues…). These African roots are a red thread through her dancing. Which makes her style energetic, raw and playful. In her classes she tries to share her enthusiasm and hand out tools in order to feel more free in your dance, and to be able to discover your own style.
Els has been performing as her alter ego Sweet Elle. She is actively teaching for dance school Crazy Legs, helping build-up the solo scene of Ghent. She has performed with the Hodi Maputo Mozambican Dance Company, the Steam Heat Cats and the Dipsy Doodles.
LIVE BAND
Tiny Legs Tim (Tim De Graeve) is a finger-picking virtuoso and talented slide guitarist with an instantly recognizable voice. He's also a fine lyricist and a gifted songwriter with a strong feel for melody and clarity resulting into an ever-growing collection of personal compositions based on his eclectic love of blues and roots music.
"Tiny Legs Tim explores all corners of the blues; he knows it like the back of his hand. His weapons of choice are beautifully tempered guitar playing with a brutal side of slide, a pleasantly dreamy voice and a golden pen from which songs flow that you will start humming effortlessly after only listening once or twice." JAZZISM (NL)
HYGIENIC AND ORGANIZATIONAL MEASURES RELATED TO COVID-19
All courses and parties during Duke's Blues workshop will be held according to the 'CovidCheck' regulation applicable in Luxembourg.  To find the latest info on Covid-19 measures, please check here. More detailed information will be shared prior to the event.