We are delighted to present you
DUKE'S BLUES 
Join us for our wonderful, cosy Duke's Blues Festival from 10 – 12 March 2023!
Duke's Blues is dedicated to Blues dancing with amazing live music and parties, inspiring couple and solo workshops, special topic classes to spice up your program and other surprises!
Get ready to meet the international teachers Alba Mengual & Gastón (Gas) Fernández for couple blues dance, and Edmilson Botelho for solo blues and the solo mix&match classes.
At Duke's Blues it is all about social dance and groovy parties, so we've got you covered with the finest blues tunes by Boris Tabasco & the Hot Shots for the opening party on Friday, and The Paradise Stompers for the Saturday night party!
Registration opening:  31st January 2023 at 8 pm
REGISTRATION ARE NOW CLOSED.
Some tickets for parties might be available at the entrance desk.
Schedule: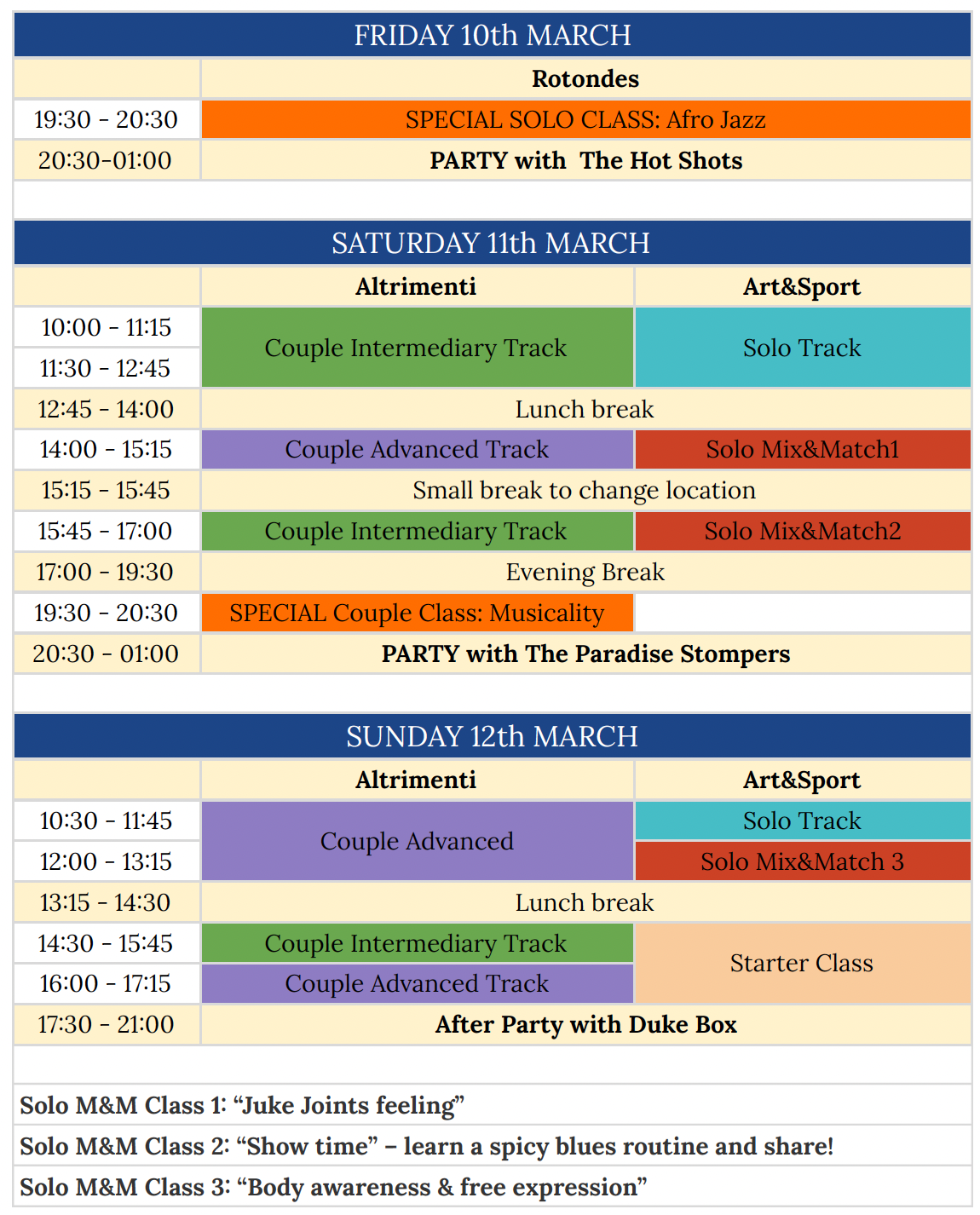 Classes
***Based on reflections on sensitive cultural heritage , we decided to replace names of schedule.  We apologise if people in community felt offended, and thank you for ongoing feedback so we can continue our efforts to do justice to be an inclusive and non-discriminating community.
With a lot of space for improvement, many good intentions and love for the jazz culture and our community, our team is committed to do better. ***
Which Track should you choose? Please read the track descriptions carefully.
Couple blues
Couple Intermediary Track : This track is for you if you have taken at least 1 semester of Blues classes and you are familiar with the basic moves, as well as closed and open positions in couple Blues. In this track, our teachers will take time with you to find your groove, to expand your repertoire of bluesy moves and to explore both your individual dancing as well as your connection with your partner. You will feel more comfortable on the dance floor and come closer to fully enjoy the diversity of Blues music and dancing.
Party pass included.
You can combine this track with one or the other Red Velvet Mix&Match solo classes!
Please note that this is not a class for absolute beginners.
Couple Advanced Track : You don't dance the Blues, you live the Blues! You know what Blues feels like after at least 2 years of Blues classes and maybe already joined some international Blues festivals. Now is the time to connect deeper with the different grooves of Blues music. This track is all about challenging yourself with faster blues rhythms, improvising and working on some techniques of your moves. This track will bring your connection and interaction with your partner to the next level!
Party pass included.
You can top up this track with one or the other Red Velvet Mix&Match solo class!
Solo Blues
Solo Track : In this track you will find your inner Blues dancer!  We will develop and enrich your solo Blues vocabulary, work on body movement and play with different textures and tempos. You're eager to grow as a dancer by adding stronger rhythms to your dancing, playfulness to your interaction with the music and meaning to your body movements.
This track welcomes dancers of various levels, each dancer being challenged individually considering his/her experience.
Party pass included.
You can spice up this track with the Red Velvet Mix&Match solo classes!
Please note that this is not a class for absolute beginners.
M&M's : Mix & Match solo classes
Class 1: "Juke Joints feeling" –  As you may know, the old Juke Joints were mostly 'hidden' places in remote areas where the blues was 'born' and still exist today. In this class, it's all about feeling and expressing the blues and let it out! You will work on musicality, technique and style.
Class 2: "Show time" – If you want to learn an inspiring and spicy blues routine, this is your class. Edmilson will prepare something very special for you! Will you also be brave enough to share the routine with all of us during the party?! Your choice, in any case it's all about sharing the joy of individual dancing and creating a wonderful moment of togetherness!
Class 3: "Body awareness & free expression" – If you want to learn more about creating different movements and some technicality to connect better to the music, this is your class! This class is about finding your inner groove, body control/awareness and playing with various rhythms to express yourself through the music!
Party pass not included, classes are booked individually.
These Mix&Match solo classes are open level, however not targeted at absolute beginners.
Special evening classes
Friday – Afro-Jazz: experience the traditional roots of jazz & blues through african rhythms and moves. This class is open to dancers with a minimum of 1 semester of blues dance or solo jazz experience. This special class should be booked separately, as it is not part of the above mentioned workshop tracks. **LIMITED SPOTS!**
Saturday – couple class – Musicality&More: explore different ways of expressing the music in your blues moves, feel how you can follow different musical vibes and rhythms, together with your dance partner. Join this special topic class to dive into musicality if you have at least one semester of experience in Blues dancing or Lindy hop. This class is not part of the above mentioned tracks and should be booked separately .**LIMITED SPOTS!**
Starter class on Sunday

You have had just a few Blues classes or participated in one or the other Blues taster, and you can't wait to dive deeper into Blues dancing? Then join these starter classes on Sunday afternoon. A thorough introduction into Blues dancing that is not to be missed, and that will open the doors for you to experience your first blues social dance right after the class.
Party pass – includes Friday and Saturday parties with live music
Friday party – live music with Boris Tabasco & The Hot Shots from Turin
Saturday party – live music with Paradise Stompers from Ghent
Price list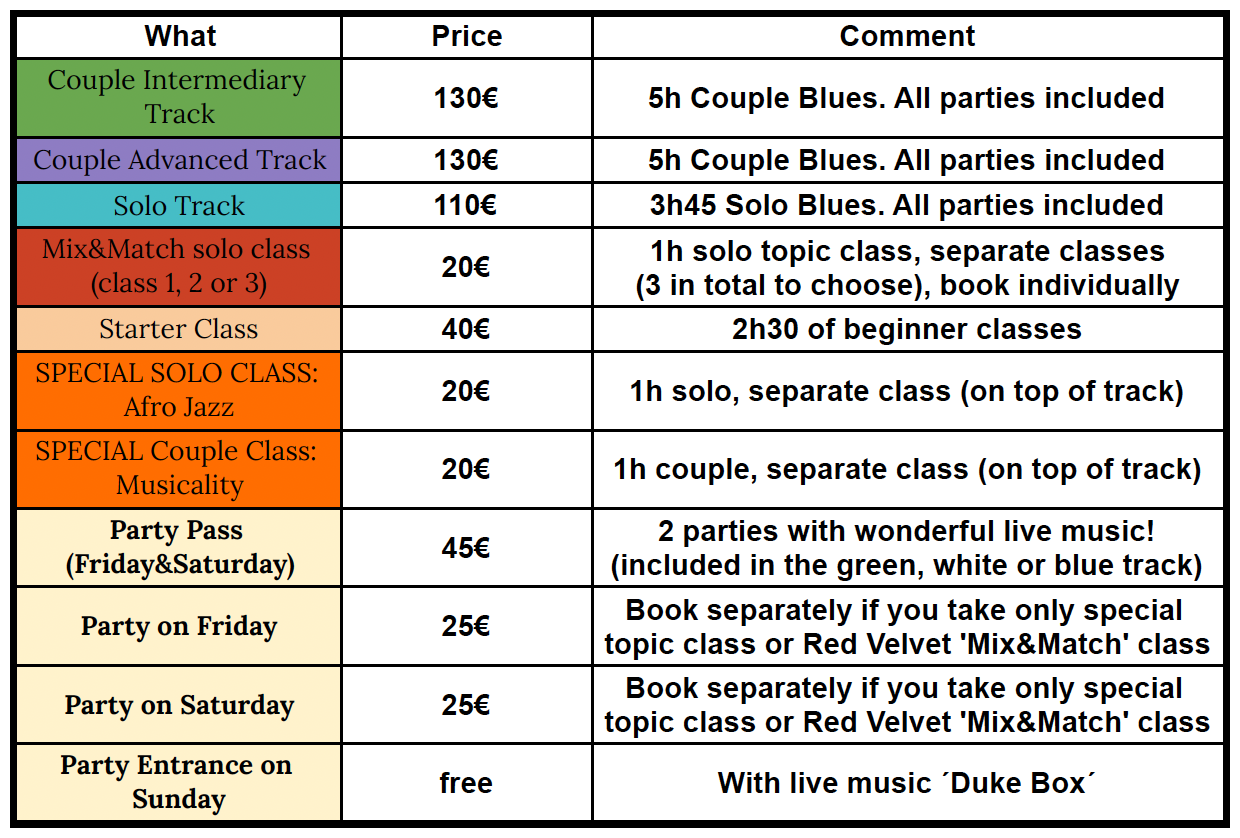 Please follow our Facebook event page or newsletter for new announcements.
Teachers 
GASTÓN (GAS) FERNÁNDEZ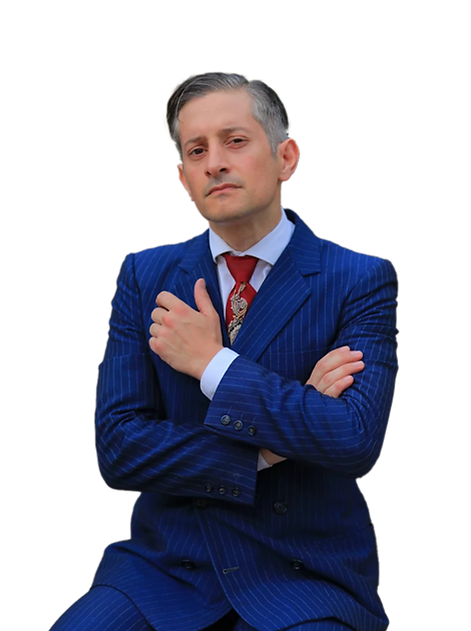 Gas is a passionate dancer, a Swing and Blues lover. He has been teaching classes since 2008 in Buenos Aires, and internationally since 2009. He has traveled from Rio de Janeiro (Brasil), to Melbourne (Australia), passing through New York, London, Stockholm, Berlin, etc.
His background as a gymnast gives his style power, dynamism and explosive aerials. His tango technique background provided his blues and "slow dance" with a profound connection and sensitivity.  
ALBA MENGUAL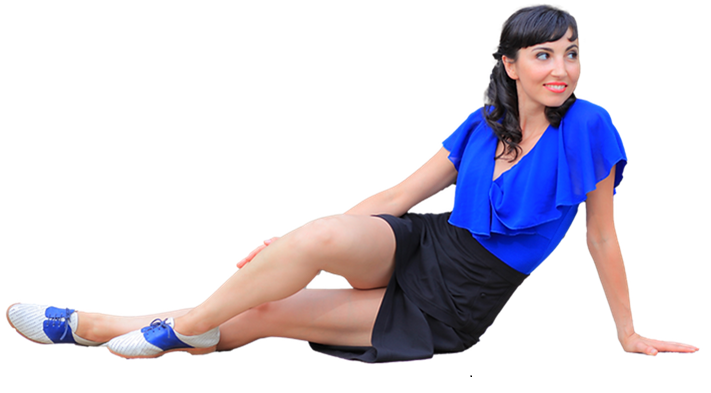 Alba met Swing dances in 2007,  and started to teach them for fun. She has been fully dedicated professionally to them since 2013. She brought her analytic foundation from her old career (pharmacy, medical information) and found in teaching a new way to apply her love for communication and teaching.
Seven years ago, she opened a school alongside Gastón Fernández, in her hometown Madrid. Her true passion is teaching and dancing socially, letting go and allowing the communication magic to spark. If she can teach both things, connecting the student with his/her self expression and how to express it through the jazz language, she knows she has succeeded.
Gas & Alba :
"Our pedagogy looks for the most natural way to dance this music. We highlight the importance of the music and the culture behind it. We prefer little technique rather than too much, and above all a lot of music is played. We search for the essence of the movement in the rhythm, in all the dances that we teach (lindy, blues, balboa, solo jazz, charleston etc)"

EDMILSON BOTELHO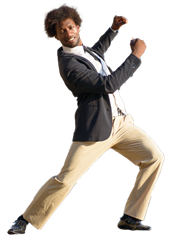 Born and raised in the São Tome and Principe Islands, Edmilson da Cruz Botelho has always lived surrounded by music.
His rhythm builds on the African traditional dances that he has learned while in his home country, including usôa, puíta, funaná, kadance (kizomba) and semba.
At the age of 17, Edmilson moved to Porto and soon after that, he discovered Lindy Hop. His passion for dance led him to become a Lindy Hop and Blues teacher. For him, dance is all about feeling, groove and joy.
Edmilson successfully participated in various couple and solo blues competitions over the past years and was invited to complete a blues teacher formation, 'Bluesology' given by Adamo & Vicci in Valencia. This year he is also part of the group of instructors creating courses for The Blues Room. You will find Edmilson teaching and sharing his wonderful energy and choreo's at various festivals in Europe.

Bands

Friday night party: THE HOT SHOTS

Hot Shots is a band from Torino, Italy. The project started in 2017, in collaboration with 'Slow Town Blues', a local blues dance school and association.  The band participated in the first edition of 'The Big Blues'  an international blues dance festival in Crete, Greece and continued playing in events in Italy and the rest of Europe.
In 2021 the band found the actual formation, with Samuele 'Chico' Di Nicolantonio on guitar, Alessio Boschiazzo on drums, and the Tobasco brothers, Boris, singer/harmonica player and Marco, bass player.
Their repertoire goes from the blues classics to some blues rearrangements of contemporary pop and rock music, to originals played with a fresh irresistible sound to make you dance all night long!
Saturday night party: PARADISE STOMPERS
Double bass player Karel Algoed, Matti De Rijcke on the guitars, Natan Goessens on drums and harmonica player Olivier Vander Bauwede perform groovy songs that will take you back to the magical era of old blues and jazz.
These musicians are members of the very lively blues scene in Gent, Belgium. They regularly perform under various formations in the legendary blues & roots club Missy Sippy, and you might have been lucky to appreciate their presence in blues dance festivals such as Big City Blues (Gent) or Boulevard Blues (Hasselt).
The Paradise Stompers will shoot you right into devil's paradise with their deep, bluesy, sassy tones.
Sunday after-party: DUKE BOX

They are Luxembourg's favorite local Swing band: DUKE BOX. Stephan Kinsch on trumpet and trombone, Paul Reiff on saxophone, Geoffrey Sabba on piano, Hubert de Verdelhan on guitar, Nicolas Rousselle on clarinette and Sebastiano Giuntini on bass are going to spoil you with their finest Blues tunes. Who are they going to invite to play with them this time?
Their smooth and unique way of playing the blues is going to amaze you. Make sure to stay until the end.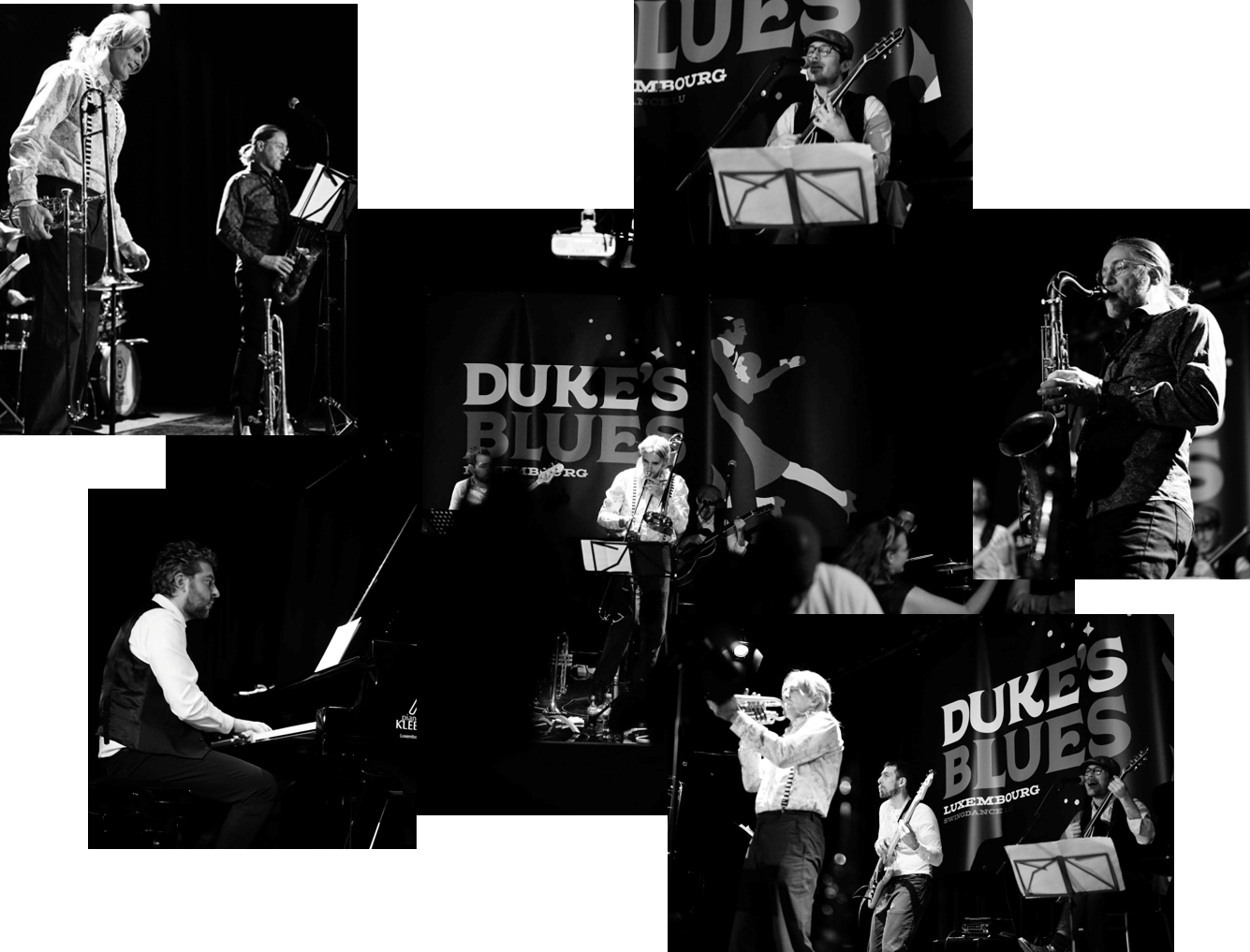 Location info
Rotondes : venue for Friday party
3, place des Rotondes, L-2448 Luxembourg
Altrimenti : venue for parties on Saturday and Sunday, and all couple tracks.
5, avenue Marie-Thérèse L-2132 Luxembourg
Art & Sport: solo track and Red M&M classes, as well the starter course will take place in a dance studio in the city center near the train station. It is easily reachable by tram or by foot.
22, rue de Hollerich, L-1740 Luxembourg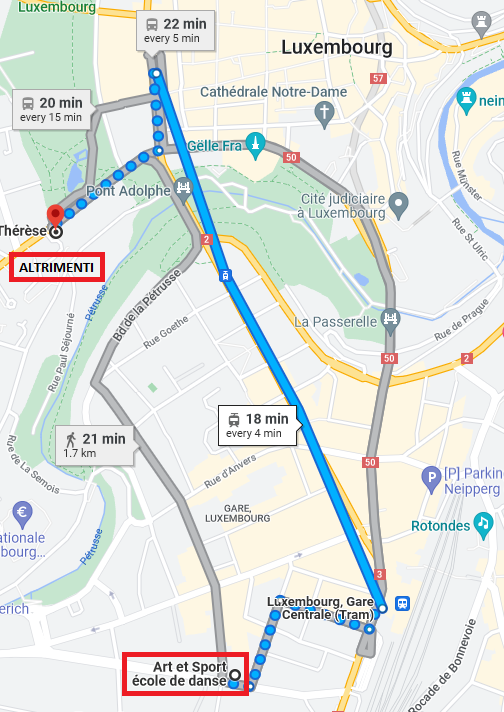 HYGIENIC AND ORGANIZATIONAL MEASURES
Currently, no restrictions related to Covid-19 apply to the organisation of our dance events at this moment. However, in the event of new measures adopted by the luxembourgish government, we will have to comply with any new legal rule.
In any event, we still recommend to all students to adopt the following hygienic rules:
Please wash your hands before and after class. Washing your hands with soap and water is recommended over the use of hand sanitizer.
We recommend all students to bring their own water bottle to class. Sharing a bottle is not recommended.
It will be possible to change partner during class, however changing partner is not an obligation and it is up to your individual choice to remain with your fixed partner.
In case you feel ill or are coughing, we kindly ask you to be responsible, do a self test and not join the event.
These hygienic measures are in the interest of our students, teachers and public health.
Thanks in advance for your understanding and your support ❤️