Fall 2020 Courses – Block 2
Dear dancers, hereby we introduce our Block 2 of the Fall 2020 schedule as a careful return to Swing dancing! As you will see from the course information below, we have implemented hygienic and organizational measures to fit the current circumstances. 
Course schedule
As previously announced, we have split the traditional fall semester of 12 weeks in 2 blocks of 6 weeks to give us more flexibility. The schedule for the second 6 weeks of the Fall 2020 courses will continue to focus on Solo dancing only.
Below you can find the schedule for the block 2 of Fall 2020 courses.
IMPORTANT UPDATE 02/11/2020 – All Fall 2020 courses are cancelled due to COVID-19 restrictions.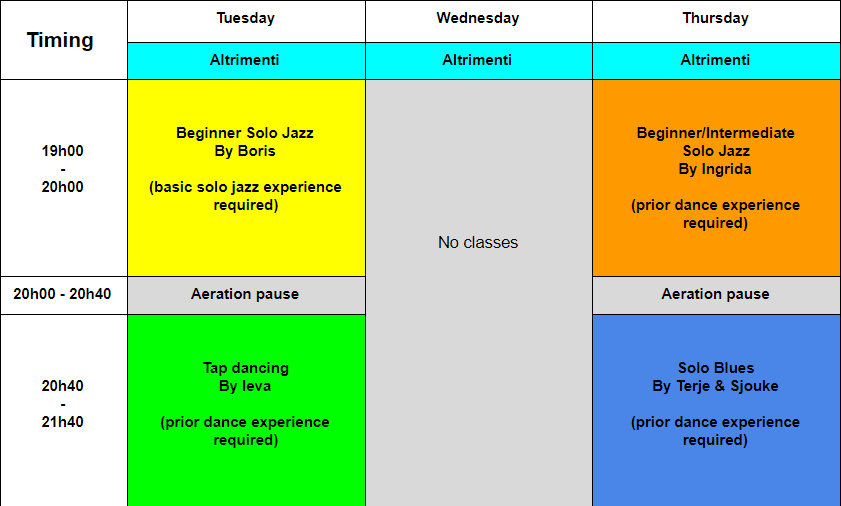 * All classes will take place in Altrimenti.
Course calendar
Below are the dates for the first and second block of 6 weeks each of classes. Please subscribe to our google calendar to upload the dates below into your own calendar. We promise that you will be happy you did!
| Class | SEPTEMBER | OCTOBER | November | December |
| --- | --- | --- | --- | --- |
| First Block |   |   |   |   |
| Tap dancing | 15, 22, 29  | 6, 13, 20 |   |   |
| Beginner Solo Jazz | 15, 22, 29 | 6, 13, 20 |   |   |
| Beginner-Intermediate Solo Jazz | 17, 24 | 1, 8, 15, 22 |   |   |
| Solo Blues | 17, 24 | 1, 8, 15, 22 |   |   |
| Second Block |   |   |   |   |
| Tap dancing |   | 27 | 10, 17, 24 | 1, 8 |
| Beginner Solo Jazz |   | 27 | 10, 17, 24 | 1, 8 |
| Beginner-Intermediate Solo Jazz |   | 29 | 12, 19, 26 | 2, 10 |
| Solo Blues |   | 29 | 12, 19, 26 | 2, 10 |
* Note: there will be no classes on the first week of November due to school holidays.

Course Descriptions
As part of the careful return to dancing, we are not offering couple dance Lindy Hop classes for the Fall semester. All our offered classes are solo dance classes with a maximum of 12 participants, so appropriate social distancing can be maintained. Please read carefully the course descriptions below, to find the class you prefer. 
Since we have a reduced amount of available spots, we kindly ask you to limit your registration to only 1 class per person. 
For more information, please refer to our frequently asked questions section.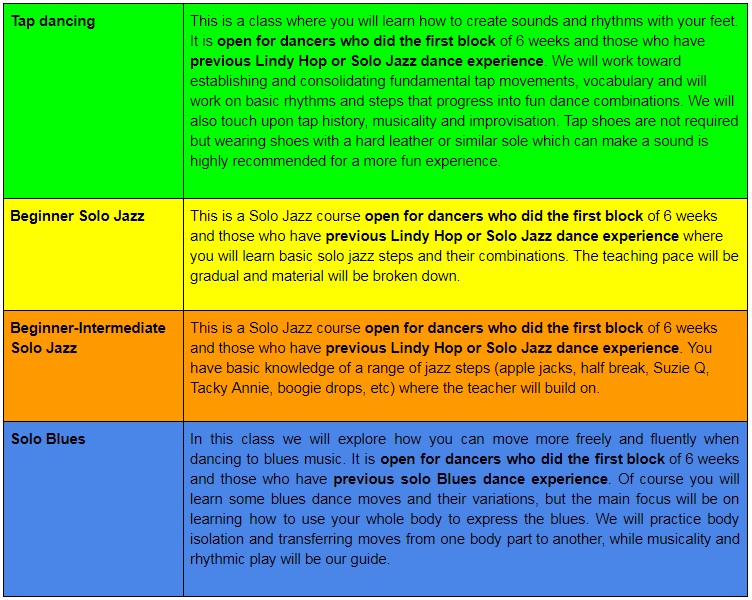 Teachers
For Fall 2020 semester, all classes will be taught by our inspirational local teacher team: Ieva, Ingrida, Boris, Sjouke & Terje! 
Course Fees
Course fee per class: 60€ per person. 
Course fees listed are for 6 weeks of classes. It is not possible to purchase single classes and we don't offer trial classes unfortunately. 
Registration
Please limit your registration to only 1 class per person, since we would like to make sure that everyone has a chance to join a class! 
Please find our Terms and Conditions here.
Hygienic and organizational measures related to Covid-19
*UPDATED 26-10-2020*
Below measures are based on governmental information. To find the latest info on Covid-19 measures from the local government, please check here.
Students are

required to wash their hands before and after class

. Either in the restroom (to the left hand side before entering the classroom at Altrimenti) or by using the hand sanitizer station at the entrance of the class room. Washing your hands with soap and water is recommended over the use of hand sanitizer.
It is required to wear a mask or other face covering indoors at all times.  It is not possible anymore to remove your mask

when positioned at your designated spot on the dance floor during the dance class. 

An aeration pause of 40 minutes is planned in between 2 groups. We ask students to leave the room at this time so it can be ventilated before arrival of the next group.
We will open as many windows/doors as possible during the class, so it might be a bit chilly. Please be prepared by bringing e.g. an extra sweater.
We recommend all students to bring their own water bottle to class. Sharing a bottle is not recommended.
We ask all students to

sign in before class

using the attendance list placed at the entrance, so we can keep track of all students that were present for that class. Due to traceability needs, it is not possible to have someone attend the class in your place.
Due to the maximum amount of 12 students for a given class, it will not be possible to change class, do more than 1 class or come to a class you have not registered for. 
In case you feel ill or are coughing, we kindly ask you to be responsible and not join the class for that week. In case you return from international travel, please respect quarantine measures if at all applicable to you.
Above measures are in the interest of our students, teachers and public health. Failure to comply with these measures can result in expulsion from classes. Thanks in advance for your understanding and we look forward to see you back at Swing class!
The above measures could be subject to further updates also after classes will have started. By no means though, they will be less strict than government rules.
Your Swing Dance Luxembourg
---
Indoor shoes required!
Please note that non-marking indoor shoes are required. The classroom's floor is excellent for dancing, but also delicate. As such, we cannot allow outdoor shoes, high heels, shoes leaving marks, etc.
non-marking: the soles of your shoes do not leave marks when dragged over a wooden floor.
indoor: the shoes are only worn indoors and never outdoors.
---