"Keep it swinging"
Inspirational workshop on swing music by Lennart & Frida
19th and 20th of January, 2019
We are pleased to announce that Lennart is coming back to Luxembourg in January, this time in the company of Frida Häggström Gerdt.
This will not be a traditional dancing workshop, but a weekend focused on lectures and discussions about swing music. Lennart has been listening to swing music for 40 years now. Frida has spent a lot of time studying the music, and currently she is responsible of booking the bands at the famous Herräng Dance Camp in Sweden.
Many of us might have learned already to pay more attention on the music, but nevertheless not all have grasped how fundamental it is and how challenging. The topics for this workshop include:
I) The history of Jazz and Swing Music
Will cover from the late 1800s down in New Orleans to Chicago and New York all the way up until be-bop and rhythm and blues entered the scene. Lots of film clips and recordings will be shown
II) The Sound and Structure of Jazz and Swing Music
Will cover a lot of things including instruments, orchestration, arrangements, rhythm section/melody section, ensemble, improvisation, call-response etc. Will also deal with questions like "What is Swing?" – Structure of different type of arrangements: 32 bar, 12 bar, AABA etc.
III) Savoy Ballroom and the Swing ERA
Harlem/Savoy-history: a look into the music of Chick Webb, Casa Loma, Savoy Sultans, Charlie Barnet, Count Basie etc.
IV) How to Intergate and Speak the Language (this class will be more on the floor)
This section will be more on the dance floor: exercises, rhythms, where in the music to listen etc.
V) Bands, DJs and the Lindy Hop
Which type of bands to choose, which music to play, what is a good deejay, what kind of music is needed to make a floor swing and what kind of music is to avoid.
This workshop will be open to everyone. However it is especially adressed to teachers, DJs and Swing musicians. Of course, you can highly benefit as a dancer, as well, by knowing more about swing music itself!
If you are a musician and you think this might not apply to you as your focus already is the music, please take a moment to consider how enriching this could be for you as well! you might get some great insights on what it means to play for dancers for example. Lennart and Frida are real experts and will be there to answer your questions and have a unique collection of music/videos of swing orchestras.
Workshop schedule:
Saturday 19th of January, 2019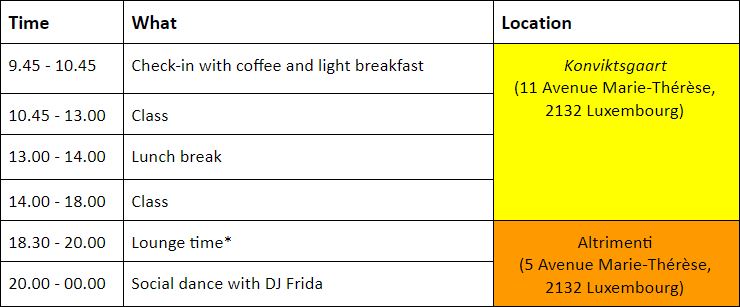 * At Altrimenti you can just enjoy yourself, hang out and relax. Feel free to order take-away pizza, from the restaurant next door.
The social dance is open to those who didn't participate in the workshop, with 5€ entrance.
Sunday 20th of January, 2019

*Saving the appetite for the food buffet at Gastronomica 🙂
Registration
The participation fee is 60 € for the whole weekend, including the Saturday party and buffet on Sunday.
Teachers:
Lennart Westerlund (Sweden)

Lennart started out dancing a Swedish form of American Jitterbug in the very early 1980s. In 1983 he came across the Lindy Hop through books and old film clips, and in May the following year he travelled to New York on the look-out for the roots of the dance form. He soon met, studied and started to spend time with old-timers including Al Minns, Frankie Manning and Norma Miller. In 1985 he co-formed the semi-professional and later on highly recognized Swedish dance company The Rhythm Hot Shots (now Harlem Hot Shots), and started to seriously study also tap and vernacular jazz dancing in general. A few years, later the company was in the forefront of the first steps of the revival of the Lindy Hop, and in 1989 they took over the complete administration of the Herräng Dance Camp, and invited legendary swing dancer Frankie Manning to visit his first major international swing dance camp. ​When The Rhythm Hot Shots started to receive some serious international recognition during the early 90s, Lennart was one of the key dancers. The company travelled extensively throughout the decade, and was among a handful ​of other dancers seriously leading the way to put the Lindy Hop back on the map again. At the time, Lennart also established himself as an international instructor, as well as an administrator and background worker at especially the Herräng Dance Camp. In 2004 he opened Chicago swing dance studio in Stockholm, and in 2010, after 25 years, he left the  professional performance aspect of the dance, now focusing more on teaching, giving lectures and perform dance demonstrations.Lennart is today still the most active dancer, instructor, lecturer, judge and administrator. He divides his time between the Herräng Dance Camp, the Chicago swing dance studio, and traveling around teaching and giving lectures. After some 35 revival and renaissance years of the Lindy Hop, Lennart is one of very few of the pioneers that are still active in the scene. His background and dedicated interest in the Harlem roots of vernacular jazz dancing has positioned him as an important link between the past and the present.
Frida Häggström Gerdt (Sweden)
Frida is a hardcore lover of jazz, in every sense. In Stockholm you will find her right up in front of the stage at any jazz event in the city, that is if she is not herself in the DJ booth. She likes late evenings and moves with simplicity to all kinds of jazz music: from 20's New Orleans to the be bop and cool of 40's Chicago. As a dancer she flies with ease at all tempos. She is always one with the music and has a personal charm best described as a little cheeky. A serious dancer with a permanent glint in her eye. 
Frida has spent a lot of time studying swing music, and currently she is responsible for booking the bands at the famous Herräng Dance Camp in Sweden.