Spring 2019 semester
Course fees and registration
Course fees
LINDY HOP, AUTHENTIC JAZZ AND LINDY CLINIC CLASS (12 CLASSES)
BLUES (6 classes – 31 January to 7 March)
BALBOA (6 classes – 14 March to 18 April)
1st course: 150 € per person. (with the exception of the Balboa and Blues courses which cost 75€ each).
Each additional course includes a reduction of 30 euro.  
Course fees listed are for the whole semester from January to April 2019. It is not possible to purchase single classes and we don't offer trial classes unfortunately. If you're curious to get an idea what Lindy Hop is like, please join us at one of our free taster classes before social dancing.
You cannot take more than 1 Lindy Hop class, unless you take them in separate role (eg. you are leader in one and follower in another). If you purchase a Lindy Hop class, your second and/or third course must be one of the following: balboa, blues, authentic jazz or technique class.
Registration
For your convenience, please find some guidelines below about how to register:
-Choose the course(s) you would like to attend, by clicking on the appropriate box(es) below. The total amount to be paid will be automatically calculated.
-Note that the Couple Blues and Balboa classes both take place in the timeslot thursday 20h to 21h. Couple blues takes place the first 6 weeks of the semester, Balboa takes place the last 6 weeks of the semester.
-Fill in your personal details (PLEASE FILL IN YOUR SURNAME AS WELL).
-Select your role 'follower' or 'leader' and fill in your partner's email if you are signing up as a couple. Your partner needs to do a separate registration mentioning your email as well, so you can be coupled by the system.
-Please mention in the "Note" section, which course you took in the past or what is your previous dance experience to help our registration team.
**Thank you for your patience, you will receive payment details as soon as we are able to confirm your place in the courses.
*** The courses Beginners and Ella Fitzgerald Lindy Hop are full. Jimmy Lunceford class has been cancelled.
Recommendation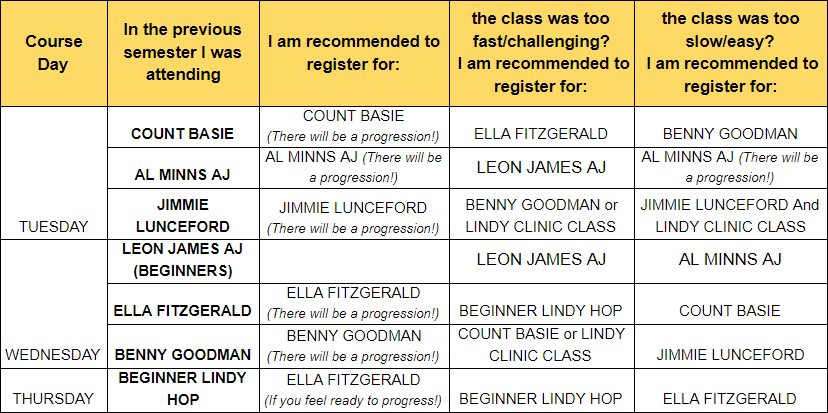 Cancellation Policy
In case Swing Dance Luxembourg decides to cancel a class(es) you will receive a full refund of your payment for the cancelled class(es). We do not refund payments for classes in case of force majeure, nor in case you cannot attend due to reasons other than the one described above.
The success of our classes depends on you, our wonderful students, showing up for the course(s) you register in! Therefore we have some rules:
Full refund with a 5 euro administration fee will be possible up until January 22th, 2019.
No refund is available for any cancellations made after January 22th, 2019.
Transfer Policy:
Successful registration for courses acts like a ticket, and is transferrable to another student according to these rules:
The new student is the correct level and dancing role (lead/follow).
The financial aspects of this transfer must be conducted privately between the two individuals.
The original ticket holder must inform Swing Dance Luxembourg (SDL) of the transfer.
The communication of this transfer to SDL must take place no later than 2 weeks before the Fall courses start.