Spring 2019 semester
Frequently Asked Questions
As we understand that things maybe confusing if you are new to Swing Dance Luxembourg, we've created some frequently asked questions with their responses for you.  Please see below to see if your question is answered among them!
Q: Which course is best suited for me if I am new to Swing Dance Luxembourg?

Q: Which course is best suited for me if I already took a semester of classes with Swing Dance Luxembourg?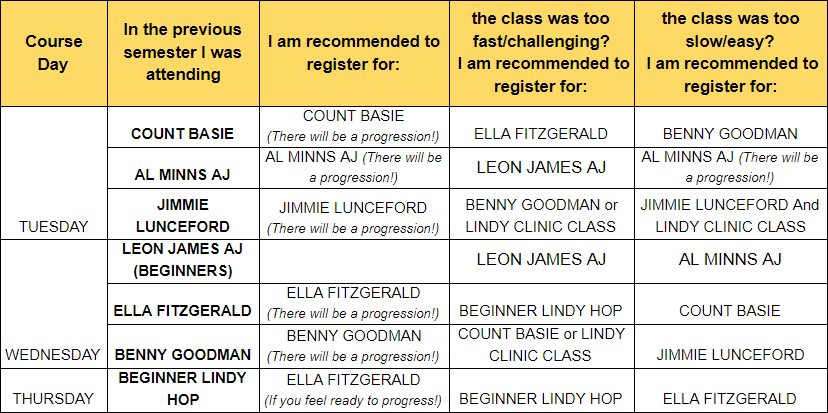 Q: Am I a follower or a leader?
A: Traditionally, women danced as followers and men as leaders. However, the distinction of the roles is not gender-based but rather role-based. If you lead, you will "initiate" the moves and if you follow, you will follow them. With experience you will see that this is actually a very reductive definition as the role of the follower is as proactive as the leader's.
Q: If I register for a class and realize it is not the class for me, can I change? If I am not satisfied, can I decide to quit and ask for a refund?
A: You can transfer to a different class, but you need to inform the Swing Dance Lux team so they can make the necessary changes and confirm if there is a spot in the class you want to be transferred to. Changes are subject to spots availabilities.
You need to decide within 3 weeks from course start. After the first 3 classes, no changes will be possible. No refund will be given if you choose not to continue attending the classes.
Q: What happens if I miss a week?
A: The course is thought as a package and not as individual "chapters" so we encourage you to attend as often as possible. Having said this, if you miss a week you can always ask the teacher for some hints or get in touch with your friends and catch up. Your learning will not be impaired. No refund is given for missed classes. It is not possible to substitute one missed class with any other class you have not registered for.
Q: Do I need to register with a partner?
A: We strongly encourage to register with a partner as we need to guarantee an equal number of leaders and followers. We usually accept 2-3 extra followers in each course, depending on the total number of participants.
If you have no partner to register with, we encourage you to register within the first 10 minutes from registrations opening as that is when all the extra followers' spots are taken.
Q: Is it possible to book a trial class before registering for the full course?
A: We do not offer this possibility. However, we have free taster classes for absolute beginners before social dancing. Keep an eye on our website or Facebook group to know when the next one will be!
The taster classes are meant to show you what the dance looks like and what spirit is behind it and its music. The methodology and style of teaching as well as the specific contents or moves is a reflection of the personal preferences and knowledge of the teachers giving the taster and might be different from the ones of the teachers giving the weekly classes.
Q: What do I wear?
A: We recommend anything comfortable that you can move around in. We would also suggest wearing layers as it can get quite hot swing dancing, bring a towel and even a change of shirt. Most people come straight from work and do not bother changing. As long as you are comfortable and can move freely, that is fine. For footwear, we recommend flat, non-marking indoor shoes that allow a bit of sliding.