Spring 2020 courses
** Due to the Covid-19 protection measures prescribed by the Government of Luxembourg, unfortunately we had to cancel all on-site Spring 2020 courses from March 12th 2020 onwards. Since we had no information on the end of the protection period, we were fortunate enough to be able to switch from on-site to online classes, thanks to our teachers Arnas, Tadas and Kamile on a very short notice.
This allowed us to:
provide new content for our students and give them possibility to continue dancing while staying safe;

provide employment for our freelance teachers and help them in these hard times, when artistic employments are hit hard;

provide financial support to our partners Altrimenti and Art&Sport thus helping them to survive this period so that we have a place to come back when protection measures end.
Thank you for your understanding that we are unable to provide refunds or credits for cancelled on-site classes, as we made sure to offer you the only possible alternative at the time.  An online Facebook group (only available to Spring 2020 students) with all the links to the online classes can be found here. The classes are also send by email every week.
These are hard times for all of us and we hope they will end soon so we can dance again at the same old places, with the same old dancing partners. And hopefully many new ones!
Sincerely yours,
Swing Dance Luxembourg asbl **
Course schedule
We are glad to announce the schedule for the Spring 2020 courses of Swing Dance Luxembourg!
Registrations will open on Friday, December 13th 2019 at 20h. You can find the registration system on the bottom of this page.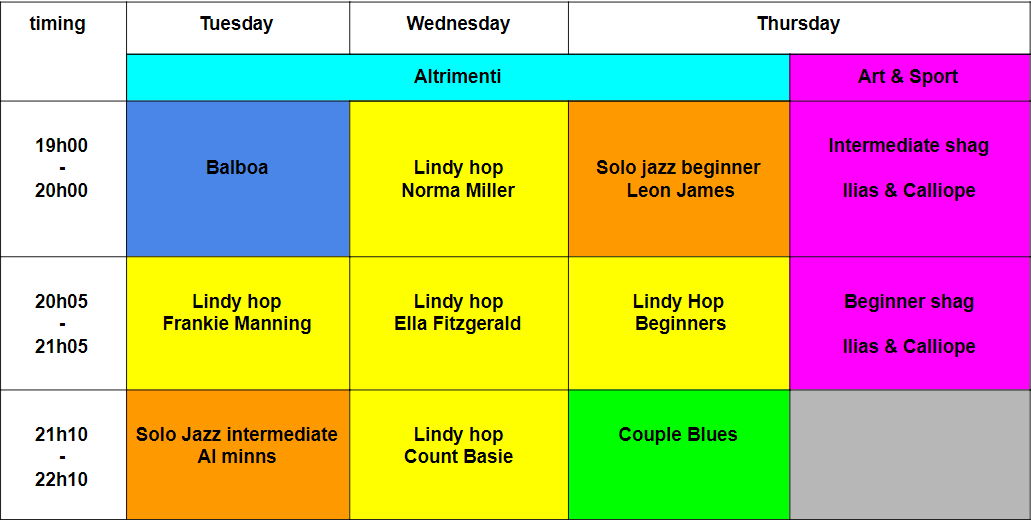 * note that all Collegiate Shag classes will take place in Art&Sport next semester. All other courses will take place in Altrimenti.
Course calendar
The classes will take place over 12 weeks, from February 4th to May 7th, 2020. Please subscribe to our google calendar to upload the dates below into your own calendar. We promise that you will be happy you did!
| Class | FEBRUARY | MARCH | APRIL | MAY |
| --- | --- | --- | --- | --- |
| Balboa | 4, 11, 18, 25 | 3, 10, 17, 24, 31 | 21, 28 | 5 |
| Frankie Manning – Lindy Hop | 4, 11, 18, 25 | 3, 10, 17, 24, 31 | 21, 28 | 5 |
| Al Minns – Solo Jazz | 4, 11, 18, 25 | 3, 10, 17, 24, 31 | 21, 28 | 5 |
| Norma Miller – Lindy Hop | 5, 12, 19, 26 | 4, 11, 18, 25 | 1, 22 ,29 | 6 |
| Ella Fitzgerald – Lindy Hop | 5, 12, 19, 26 | 4, 11, 18, 25 | 1, 22, 29 | 6 |
| Count Basie – Lindy Hop | 5, 12, 19, 26 | 4, 11, 18, 25 | 1, 22 ,29 | 6 |
| Leon James – Beginner Solo Jazz | 6, 13, 20, 27 | 5, 12, 19, 26 | 2, 23, 30 | 7 |
| Beginner Lindy Hop | 6, 13, 20, 27 | 5, 12, 19, 26 | 2, 23, 30 | 7 |
| Couple blues | 6, 13, 20, 27 | 5, 12, 19, 26 | 2, 23, 30 | 7 |
| Collegiate Shag – Intermediate | 6, 13, 20, 27 | 5, 12, 19, 26 | 2, 23, 30 | 7 |
| Collegiate Shag – Beginner | 6, 13, 20, 27 | 5, 12, 19, 26 | 2, 23, 30 | 7 |
Course Descriptions
Please read carefully the course descriptions below, to find the most suitable class for you.
Lindy Hop classes are sorted in different groups/levels named after Swing dance legends as Norma Miller, Ella Fitzgerald, Count Basie and Frankie Manning. Each group represents a different stage in your Lindy Hop dancing. To understand how the progression through the different groups works, please refer to our general course policy. Don't hesitate to write us an email, or to talk to your teachers in case of doubts on which group fits you best for the upcoming semester.
For any other questions, we've carefully prepared some frequently asked questions and their answers; please refer to them to see if they answer your initial questions!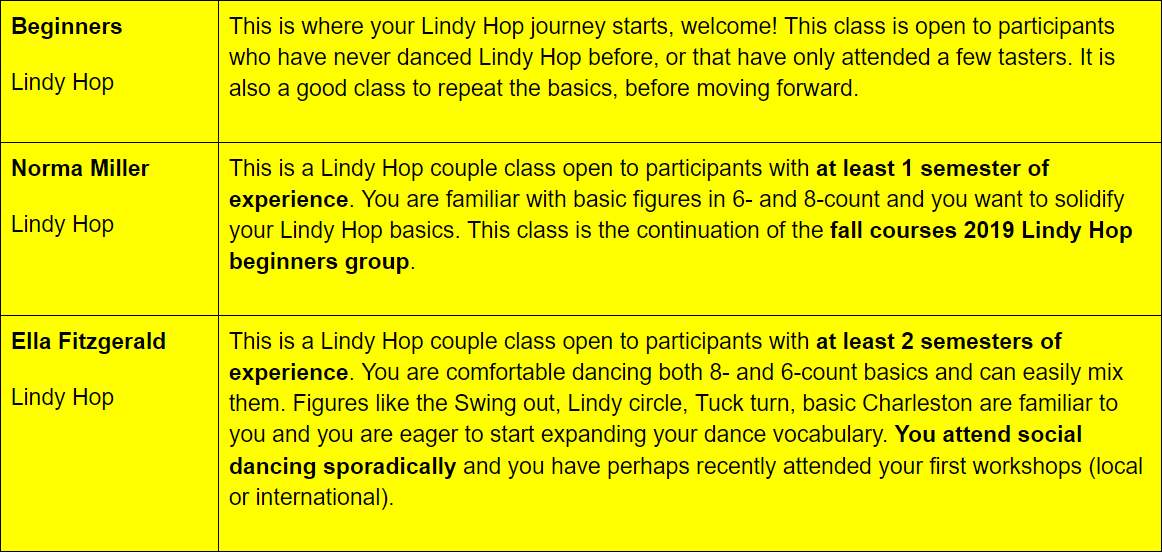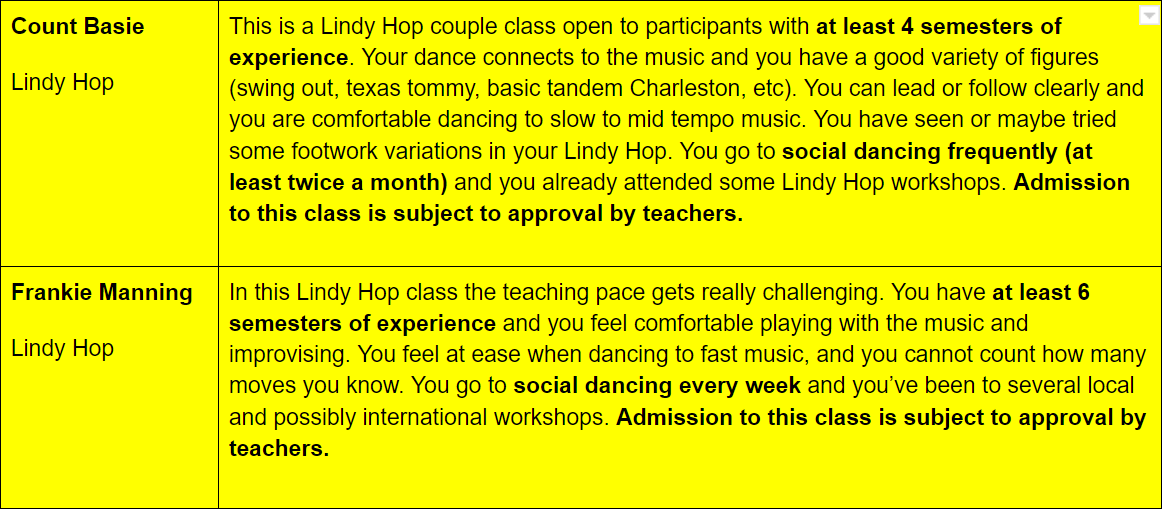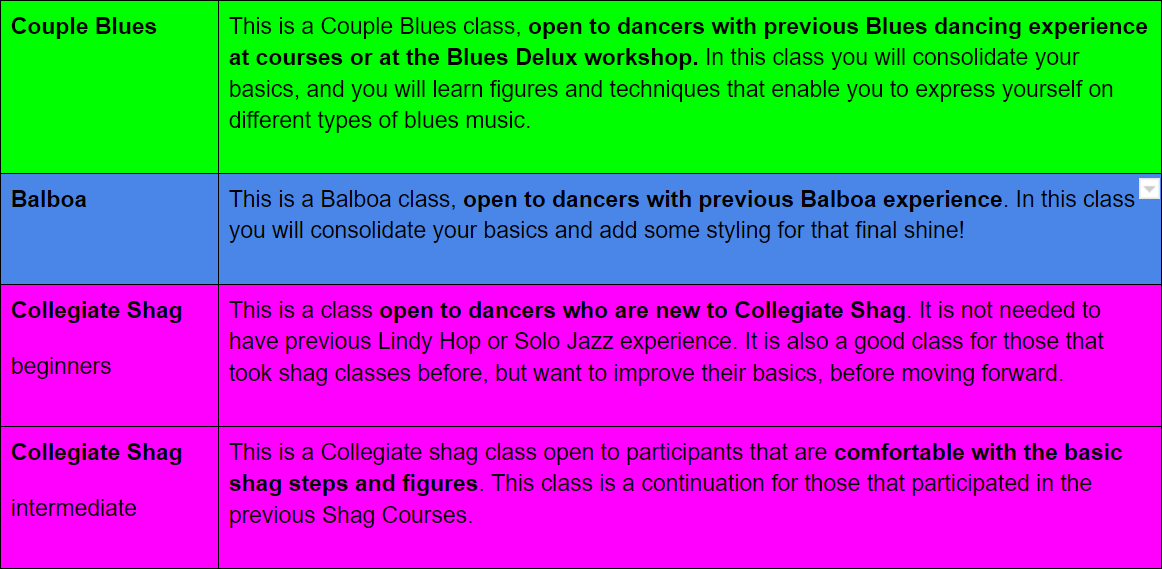 *Within the first 3 weeks of classes, you have the possibility to transfer to another class, if you are not satisfied with the class you originally registered for. This can happen only upon discussion with your teachers and with their explicit approval. In case of change, please notify us with an email. After the first 3 classes, no changes will be possible.
Teachers
For Spring 2020 semester, all classes will be taught by professional residential teachers coming over to Luxembourg from Lithuania, apart from Collegiate Shag that will continue to be taught by Ilias & Calliope!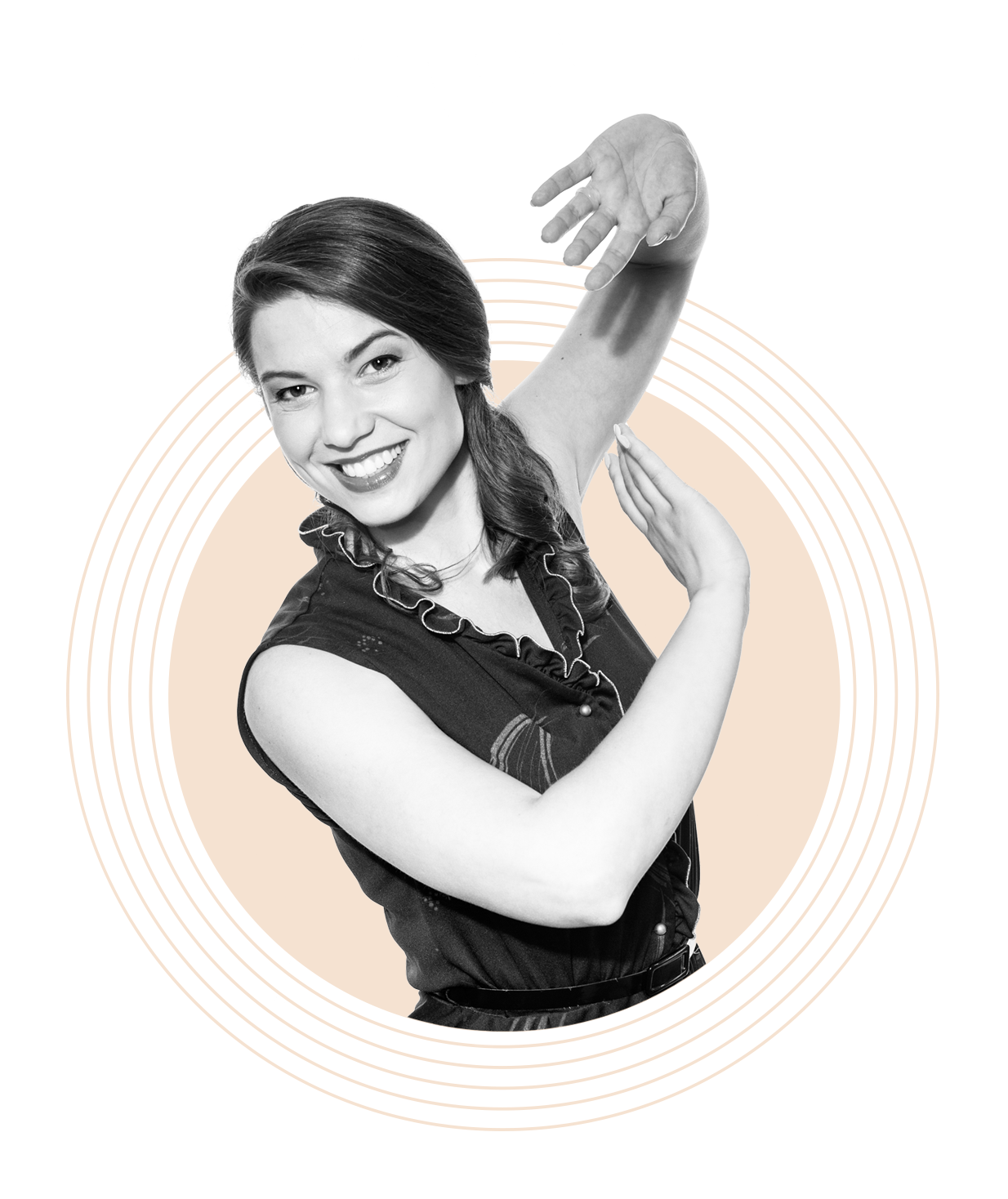 Kamile Pundziute is a real treat in Vilnius Lindy Hop community, keeping it swingin' since 2003, the very beginning of Lindy Hop explosion in Lithuania. Kamile has dedicated her life to dance. She is a dancer, a teacher, a choreographer and also a dance – movement therapist. She has travelled many places in Europe teaching, performing and spreading love for dancing.
Her education in somatics and movement therapy bring concepts of movement and following to a whole new level and is a base for her teaching. A knowledgeable approach coupled with an honest, joyful perspective of life is attractive for students. Positive experience guaranteed!

Arnas Jasiūnas is one of the top dancers of the thriving Lithuanian Lindy Hop scene, dancing since 2006. His original approach to dance will add to the knowledge of a dancer of any level. Arnas ideas are based on concepts of body movement, rhythms and authenticity of both the dance and the dancer. With his dance technique and teaching methods in the background Arnas turns the classroom into an effective workshop and gives students ideas for future training.
His long training in music makes his dancing a creative musical experience. And his playful personality will surprise and cheer you on the social dance floor. Rumor has it all 🙂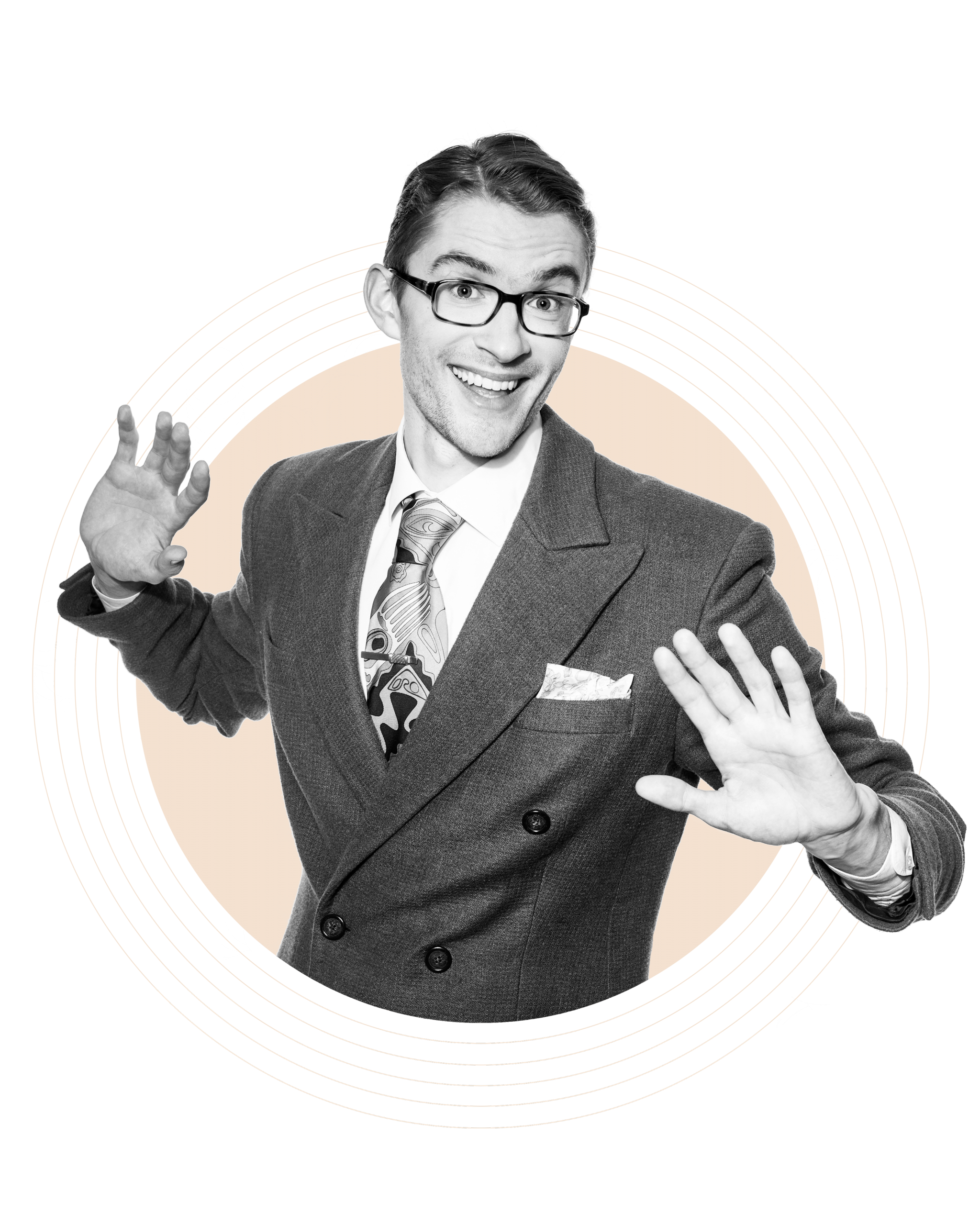 Tadas Vasiliauskas is one of the main Lindy Hop teachers in Vilnius, Lithuania. He teaches regular classes at Lindyhop.lt club. Tadas actively performs and choreographs: he is in charge of a performance troupe and also was one of the first performers to bring Lindy Hop on stage in a contemporary theater show "Partners" in Vilnius. Also he is a founder of Harlem Speaks Easy jazz club in Vilnius. Tadas can be frequently found playing the trombone as a side hobby. On the dance floor, you can recognize him for his playful dance style and great energy. Tadas also often travels abroad to teach, learn, perform and compete.
Collegiate Shag: Ilias & Calliope
Ilias and Calliope started dancing Lindy Hop and Authentic Jazz back in February of 2016. Two months later, Collegiate Shag stole their hearts and they have been dancing it ever since. They are currently based in Luxembourg and they have been teaching in the Quattropole region (Luxembourg, Trier, Metz). Apart from teaching, they have been performing in Greece and Luxembourg with different dance groups (The Shag Comets, The Apple Jacks). They have choreographed a few Collegiate Shag routines of their own, see for example their performance at the BCN Shag Festival above!! 
Course Fees
1st course: 150€ per person. Each additional course includes a reduction of 30€.  
Course fees listed are for the whole semester, from February to May 2020. It is not possible to purchase single classes and we don't offer trial classes unfortunately. If you want to try out swing dancing, please join us at one of our free taster classes before social dancing.
Registration
*If you are registering as a couple, both partners need to register individually, mentioning each other's email.
*The Lindy Hop beginner and Leon James Solo Jazz class are fully booked. There are still spots in the Collegiate Shag beginner group!
Please find our Terms and Conditions here.
---
Indoor shoes required!
Please note that non-marking indoor shoes are required. The classroom's floor is excellent for dancing, but also delicate. As such, we cannot allow outdoor shoes, high heels, shoes leaving marks, etc.
non-marking: the soles of your shoes do not leave marks when dragged over a wooden floor.
indoor: the shoes are only worn indoors and never outdoors.
---