We are delighted to present you our
SUMMER SOLO JAZZ SESSIONS
with Skye Humphries
Wednesday 12th to Sunday 16th July 2023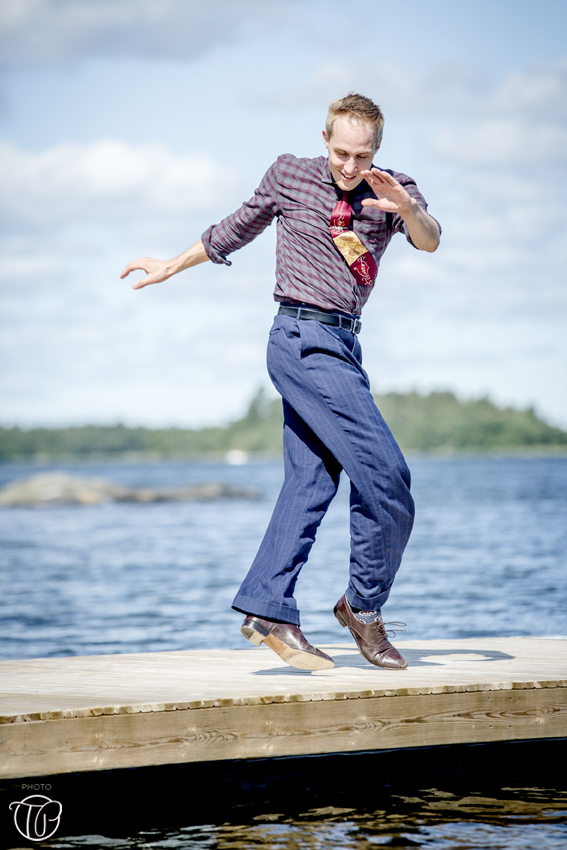 Skye Humphries is coming back to Luxembourg for a long weekend of solo jazz sessions!
We have designed different options for you. Please read the descriptions carefully and choose your track and/or special classes according to your dancing level and your schedule!

Intensive tracks (Wednesday – Saturday)
Improvers' track
A unique opportunity to improve your solo jazz dancing in a 4h15 track with Skye! Join this track if you have a solid basic solo jazz vocabulary, acquired in at least one year with us (or elsewhere) or thanks to online / self learning. You know steps such as Tacky Anny, Suzie Q, Apple Jacks, Boogie back, Boogie forward, Shorty George, Mess around, Fall of the log, and many more. You might have learned a solo jazz routine, such as the Shim Sham or the Tranky Doo. You would like to improve your solo dancing, gain confidence, start to improvise or improve your improvising skills, learn new rhythms and combinations. Then this track is for you.
Intensive performers' track (invitational)
You live the solo jazz, you've been dancing for many many years, you know by heart countless variations of solo jazz steps and complex choreographies such as the Tranky Doo, the Big Apple, the Trickeration and more. You might have performed some of these choreographies and/or your own creations. You're not afraid to improvise. You're ready to jam solo and you're up for a big challenge. In this 8h30 intensive track, we will work on choreography (with the aim to perform), dance training, improvisation. Be ready to sweat and to be taken out of your comfort zone! 
This track is invitational and we do not open general registrations for it. If you have not been contacted by us and think that this track is for you then please send us a mail to info[@]swingdance.lu.
The schedule of these two tracks looks as follows:
A Solo Jazz Sunday with Skye: Special Sunday classes
On Sunday 16th of July, Skye will offer four special topic open level classes for all dancers and students (1h15 per class). Please note that you should have taken classes for at least one semester (solo jazz and/or lindy hop and/or blues) and you have some solo jazz vocabulary*. We're convinced that learning together with a wide variety of levels is beneficial both for new solo dancers and for very advanced solo dancers. Let's learn and grow together!
*These classes are not open to absolute beginners. For absolute beginners, please join our taster classes and wait for the next semester (September) 🙂
Please find in the table below the topics of the four classes, as well as the Sunday schedule: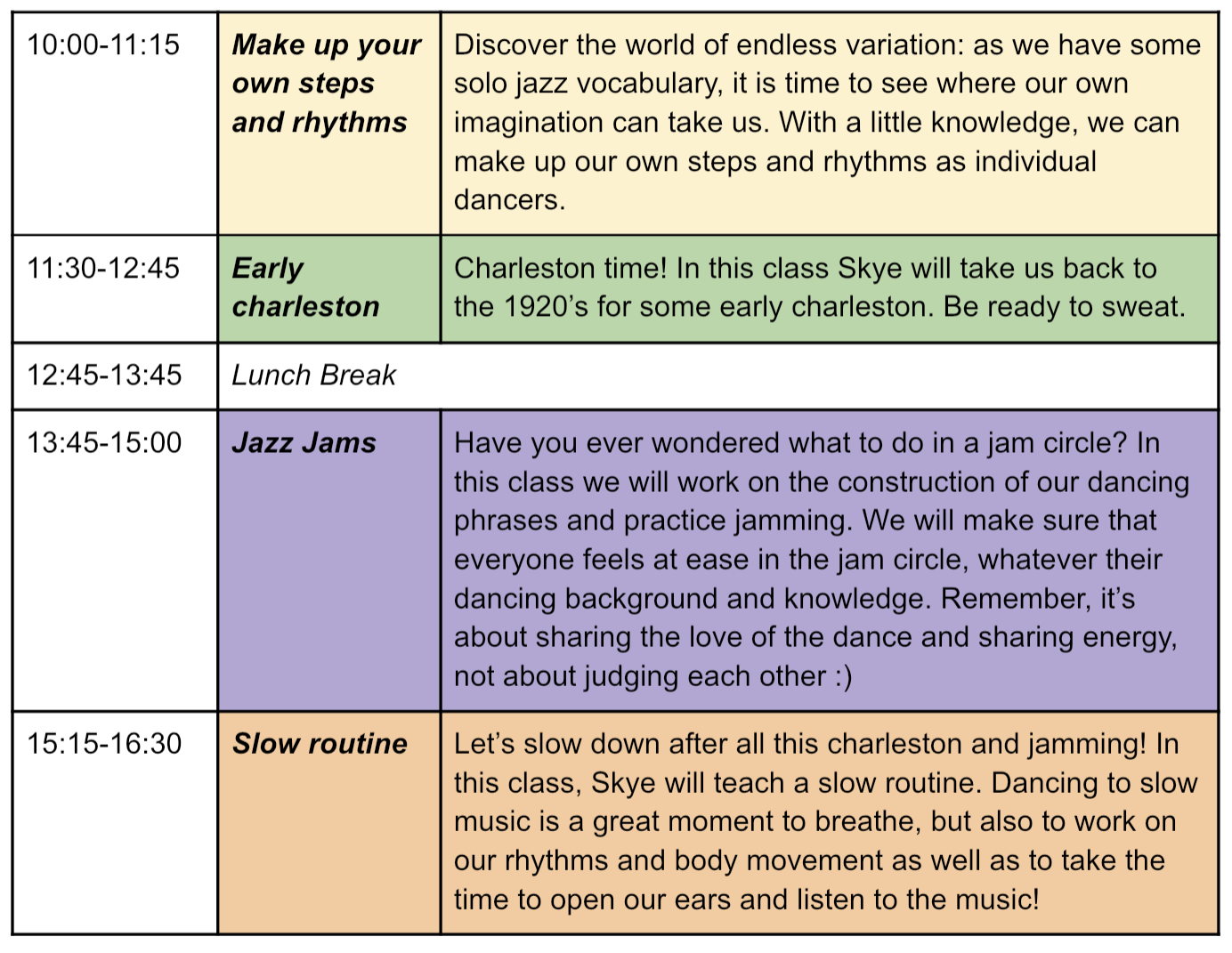 Surprise, surprise!! 🤩 The Sunday courses will be followed by a late afternoon / evening tea dance with live music by the Hop Sh Bam! Let's celebrate Swing Dance Luxembourg ASBL's 10th anniversary. 🎁 More info on the party to come soon.
Prices and Registrations
Improvers' Track (4h15): 85€
Intensive Performers' Track (8h30): 170€
Sunday courses:
Book 1 class (1h15): 30€
Book 2 classes (2h30): 55€
Book 3 classes (3h45): 75€
Book all 4 classes (5h): 95€
Please note that, when you sign up for several Sunday courses, our registration system cannot automatically indicate the reduction. Be assured that the correct prices are the ones mentioned here above.
Make up your own steps and rhythms
Location
All tracks and special classes will take place in Altrimenti. See you in Salle Rheinsheim, which is the main room where we usually dance in Altrimenti.
ℹ️ We're lucky that the rooms in Altrimenti have a proper and good wooden floor. In order to protect that floor, indoor shoes are required for all dancers! Please make sure to wear shoes that do not leave marks on the floor.
Teacher
Skye was first persuaded to dance Lindy Hop by his mother in 1996, but quickly discovered his own love of social dancing, swing music and the Lindy Hop community.  This led him to a wider interest in dance and he took classes in ballet, modern, and Jazz.  Since 1999 he has taught wherever Lindy Hop is done- from national weekends to international dance camps.  He is a founding member of some the most influential modern Lindy Hop troupes- including Minnie's Moochers, Mad Dog, and the Silver Shadows.  Skye has also won titles at all of the major Lindy Hop competitions- including ULHS, ILHC, ALHC and the World Lindy Hop Championships.  His involvement with Lindy Hop sparked his wider interest in America's history and cultural heritage- leading him to pursue American Studies at The George Washington University where he received his master's degree in 2007.