SwingLuxDay January
When:  January 20th, 2018
Where:
Classes at 

Art & Sport, 22 Rue de Hollerich, L-1740 Luxembourg
Social Dance at Altrimenti, 5 Avenue Marie-Therese, L-2132 Luxembourg
What:
After the successful and inspiring SwingLuxDays of the past autumn, we are starting the new year with another great SwingLuxDay. Join us for a new Swing experience! For those interested in our spring courses, this is a perfect start to experience the magic of swing dancing.
Here is what we offer you for this January Edition:
Back to roots – Lindy Hop

workshop with Vladimir & Gina from Saarbrucken. This class is perfect for you if you have never had the chance to dance before or if you are looking for a way to refresh your basics.

Super Special- Women in Swing (History class)

. Martina will introduce you to some very inspiring women from the Swing Era, both dancers and singers. The class will focus on their stories and their art.

Swing Special – Authentic Jazz

: A special authentic jazz class with the amazing Ieva. Learn a classical solo jazz routine 'Mama's Stew'. It's a fast and fun routine choreographed by one of Whitey's Lindy Hoppers, Mama Lou Parks. The class is open for all levels.
After classes we'll go to Altrimenti where we´ll swing the evening out starting from 20h!  
Schedule and Pricing
Day
Time
Workshop
Teachers
Price
Saturday, January 20th

13:00 – 15:00

Back to Roots – Lindyhop
Vladimir & Gina
25€

15:10 – 16:25

Super Special – History class 

Women in swing

Martina
10€

16:30 – 18:00

Swing Special  – Authentic Jazz

Ieva
20€

20:00 – 23:00

SWING social dance @ Altrimenti

 

free

5€ reduction if you sign-up for two tracks
Teachers
Vladimir (Saarbrucken)
I grew up with hip hop and rap music and basketball. Strong rhythmic music has made me move the most and without knowing it I danced variations of original jazz-steps in the tiny nightclubs of my hometown. I met Lindy Hop years later when I was given a 10-classes package as a gift. I stayed because of the love that the Taffner family and the Lindy community feeling. Since then, this dance has been a retreat for me.
I love to dance the full spectrum of dynamics and together with my partner and the music, get into a flow of movements in which space and time no longer apply. Unfortunately it was too late to learn from the pioneers, but definitely in the right place to experience the philosophy of this culture as authentically as possible.
Gina (Saarbrucken)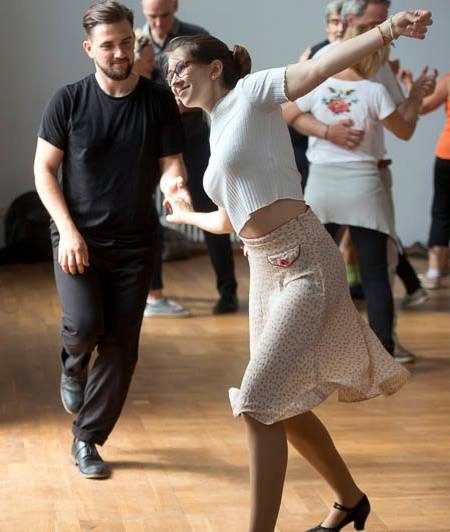 I love dancing! Merging with the music I feel very happy! I falled in love with Lindy Hop at the age of a young adult. From a friend I heard that there was something "new" going on in my city. I tried this beautiful and liberating dance from the beginning of the 20th century and stayed. With the time I am getting more and more knowledge about the Swing era. The more knowledge I get the more fascinated I get for that time and its people. I love the elegance of the clothes they were wearing, the roughness and wildness of the dance and the genius of the music. Improving my dance I orientate at the original style and try to figure out how people danced and felt in the Savoy ballroom (the nursery of the Lindy Hop). I enjoy teaching and exchanging about Lindy Hop with my students. In my classes I try to include all aspect of Lindy Hop going from musicality and rhythms over authentic figures and small routines, to how to express yourself in the dance and find your own body movements. Doing so I try to give the other dancers the joy I feel when I am dancing. Dancing and teaching in my home town, seeing all the beloved dancers from our scene gives me a steady good feeling in my everyday live. Thank you all!! But I also enjoy a lot traveling around to dance and/or teach in other cities and countries, get to know new dancers and different styles, make new friends and expand my personal lindy hop society. Nothing else gives me more inspiration and happiness than going to a Swing party with many dancers from all over the world.
Martina Natella (Italy)
Hi! I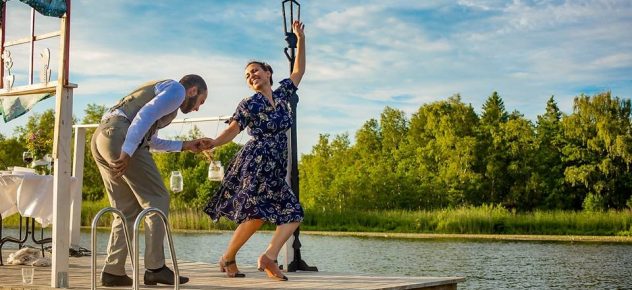 am Martina. I discovered lindy hop in the late summer 2013, when a little group of dancers were swingin' behind the Philarmonie in Luxembourg. Needless to say, it changed my life! This dance and music inspire me every day and I will be forever thankful to those who started it, bringing people together just to swing out. I have been honoured to learn from many legendary dancers, taking classes in many cities around world with Norma Miller, Chester Whitmore, Harlem Hot Shots, Sharon Davis, Daniel and Åsa and many many more.
All of them contributed to that puzzle that is now my swing dance. My mission is to preserve and nurture swing dance and music by constantly seeking for their truths and roots. My main source of inspiration will always be the one and only Dawn Hampton, who embodied the values of swing how I like it, the queen of performance, entertainment and love: "Don't count, feel! The only count I know, is Count Basie" (Dawn Hampton).
Ieva Tim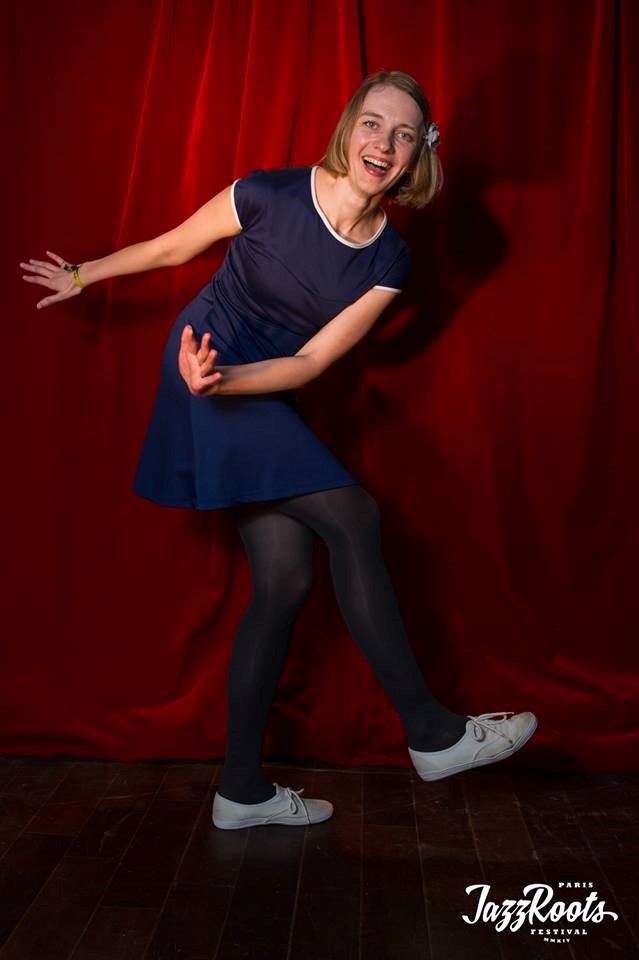 inskaitė (Lithuania)
I discovered Lindy Hop back in 2004 in Lithuania and it has been my main hobby and passion since then. I love Lindy Hop because it's such a joyful dance. It makes me smile, it makes me feel happy and when I put on my dance shoes and get on the dance floor it seems like all the daily problems have disappeared. And of course I love swing music which is so closely connected to the dance. I also dance Balboa and Authentic Jazz and would like to learn Tap dancing. Because of Lindy Hop I met so many nice people all over Europe and made great friends here in Luxembourg. I am one of the founders of the Lindy Hop scene in Luxembourg and it's been such a great experience to share this joy of dancing with other people.