——–
 ——-
SwingLuxDay, Saturday June 16th, 2018 – THE CLASSICS
Where:
Classes at Art et Sport, 22 rue de Hollerich L-1740 Luxembourg
What:
Here we are again with our monthly dose of inspiration! We will work on the classics: learn or refresh your Lindy Hop basics, improve your Swing Out, and add the Shim Sham routine to your repertoire.
This is what we offer you for this edition of SwingLuxDay:
Back to roots – Absolute beginner class, with Martina and Kevin
You can finally discover the world of Swing by learning Lindy Hop. You may take this class if you have never danced before or if you want to refresh your basics. This is also a good opportunity to switch to the other role (leader or follower).
Super Special – Swing Out, with Martina and Roumany
The Swing out is the defining dance move of Lindy Hop. No other move is as essential as the Swing Out! We will work with you on it, and try to get a comfortable feeling in it.
*To participate in this class, you need to have completed at least one semester of Lindy Hop.
Swing Special – Shim Sham, with Roumany
Many expressed the wish to learn the Shim Sham, so here we go! Come and learn the most famous routine, danced by swing and tap dancers all over the world. This class is open to all levels.

*After classes we'll swing the evening out outdoors (weather permitting), starting from 19h00! The evening party outdoors is free for all.
Schedule and Pricing
Day
Time
Workshop
Teachers
Price
Saturday,
12:00 – 14:00
Back to Roots – Beginner Class
Martina & Kevin
25 €
June 16th
14:10 – 16:10
Super Special – Swing Out
Martina & Roumany
25 €
Art et Sport
16:20 – 18:20
Swing Special  – 'Shim Sham' routine
Roumany
25 €
5€ reduction if you sign up for more than 1 tracks

—————–
Teachers: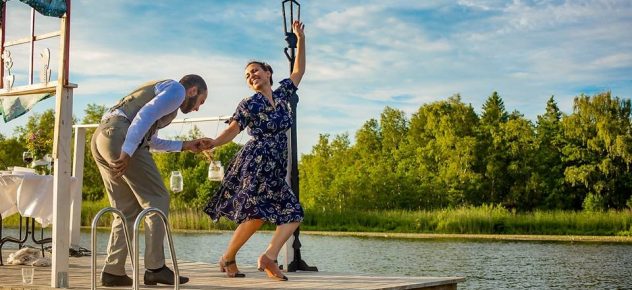 Martina Natella
Hi! I am Martina. I discovered lindy hop in the late summer 2013, when a little group of dancers were swingin' behind the Philarmonie in Luxembourg. Needless to say, it changed my life! This dance and music inspire me every day and I will be forever thankful to those who started it, bringing people together just to swing out. I have been honoured to learn from many legendary dancers, taking classes in many cities around the world with Norma Miller, Chester Whitmore, Harlem Hot Shots, Sharon Davis, Daniel and Åsa and many many more.
All of them contributed to that puzzle that is now my swing dance. My mission is to preserve and nurture swing dance and music by constantly seeking for their truths and roots. My main source of inspiration will always be the one and only Dawn Hampton, who embodied the values of swing how I like it, the queen of performance, entertainment and love: "Don't count, feel! The only count I know, is Count Basie" (Dawn Hampton).
Roumany
In the 7th grade I encountered blues and jazz for the first time. Since then, the music has accompanied me every day. I only by chance stumbled upon the still young Lindy hop scene in Saarbrücken. Freedom waved to me and with full enthusiasm I went to every social dance, looked at many ILHC videos and I took all of the few classes that were offered back then. I wanted to get as much Lindy Hop as possible.
For me, Lindy Hop is a place where I can unfold through the music, without limitations. A mysterious place, even, because you simply do not know why there is so much joy. I think it is the perfect mix of music, rhythm and folly!
"If all people were swinging, there would be no war." (N. Miller)
Lindy hop taught me a lot, including get to know myself and others; it made me develop myself as a person in a way that I thought I could never achieve. In my opinion, the best message spread by Lindy hop is that everyone can be themselves, without compulsion and judgments. Something that I haven't seen in any other dance I know, is that in Lindy Hop the sillier you get, the better you swing!
Cancellation policy:
The success of our workshops depends on you, our wonderful students, showing up for the workshop(s) you register in! Therefore we have some rules:
1) Full refund with a 5€ administration fee will be possible up until June 8th, 2018.
2) No refund is available for any cancellations made after June 8th, 2018.
Transfer Policy:
Successful registration for workshops acts like a ticket, and is transferrable to another student according to these rules:
a) The new student is purchasing the ticket: this means the new student is interested and will attend the same class(es) of the student selling the ticket.
b) The financial aspects of this transfer must be conducted privately between the two individuals.
c) The original ticket holder must inform Swing Dance Luxembourg (SDL) of the transfer.
d) The communication of this transfer to SDL must take place no later than June 8th, 2018.