Jump to: Party | Apero Swing | Levels | Schedule | Cost | Location | About Vincenzo | Registration form
On 21/22 February 2015 we hosted Vincenzo Fesi, the internationally renowned Lindy Hop dancer. Thank you to everyone who participated in the classes and events! For the first time we had both a Party on Saturday night and an apero swing gathering on the Sunday night to wrap-up the workshop all together. We are growing and it is through the hard work of our volunteers that we can continue to raise our ambitions for the events we organize for you, so thank you to everyone who helped put this awesome workshop together!
PARTY
Please join us for a special Saturday Night Party!! 
Dressing up is not required, although encouraged.
Entrance: 5 euro (free for those who attend the workshop)
Date: February 21
Time: 20.00 – 24.00
Location: Altrimenti
Centre Convict
5 Avenue Marie-Therese
L-2131 Luxembourg
APERO SWING
Wind down from the workshop at our first Sunday night Apero Swing 
Vincenzo Fesi will be there, and we will provide some snack food to keep your energy up!
(Drinks not included, but available at the bar as always)
Date: February 22
Time: 20.00 – 22.00
Location: scott's
LEVELS
The workshop will consist of two days.
Saturday is aimed at dancers currently attending our Level 1 or Level 2 courses and those who participated in one of the Level 2 courses before.
No total beginners admitted.
Sunday is invitation only, so you cannot register for it on the website but if you are invited you will receive an e-mail invitation.
SCHEDULE
Both days: 12.15-17.30 – two Lindy Hop classes, solo Jazz and Balboa
COST
Saturday – 50 euros per person
Sunday – on invitation only
LOCATION FOR CLASSES
Odeon
10, rue Munchen-Tesch
L-2173 Luxembourg
REGISTRATION FOR SATURDAY WORKSHOP
Note (12 February 2015)The workshop is almost full. Registration for couples and single followers has closed. We can still accept one or two single leaders.
ABOUT VINCENZO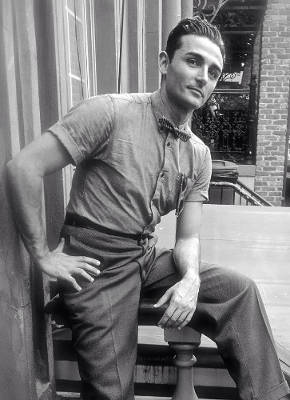 Vincenzo Fesi is a Swing dancer worldwide recognised. As a real globetrotter, he teaches and performs all over Europe, Australia and Asia. Since 2006 he teaches at the famous Herrang Dance Camp in Sweden. He is also the director of one of the most popular festivals in the world: Swing Crash Festival (alongside Isabella Gregorio) which takes place every June in Como (Italy). Vincenzo is well known for his historical knowledge in the dance and culture of the Swing Era.
As an MC he did quite a few things as well: he worked on his own radio show in Como, Italy, and he has been the Master of Ceremony for two shows at the Carnival in Piazza San Marco in Venice, one of the most beautiful squares in the world.
Last summer he wrote the preface for the italian translation of the book "Frankie Manning: ambasciatore dello swing".
As a real charmer, Vincenzo's classes are fun and full of content at the same time. He focuses on technique, which is demonstrated throughout steps and moves. Let's be tempted by this Italian full of fun and generosity!