This workshop took place in October 2013.
We are very happy to announce a workshop with Kenny Nelson and Jesse Hanus.
5-6th October 2013 in Luxembourg
Two days of classes in Lindy Hop, Solo Charleston, Blues and Aerials.
Address
Ecole de danse Stepping Out
22, rue de Hollerich
L-1740 Luxembourg
Map and directions
Prices
| | |
| --- | --- |
| Full pass (all classes) | 65 euros |
| Day pass (Saturday or Sunday classes) | 40 euros |
| Party (free for workshop participants) | 5 euros |
If you come from outside Luxembourg we can help you with hosting.
The party on Saturday will take place from 20.00 until 24.00 in Odeon. From 20.30 to 21.00 there will be a Lindy Hop taster for total beginners.
About the teachers
Kenny Nelson is an international swing dance instructor based in Denver, Colorado and Europe. He specializes in teaching and dancing lindy hop, blues, aerials, balboa, and west coast swing. When he's not starting new schools in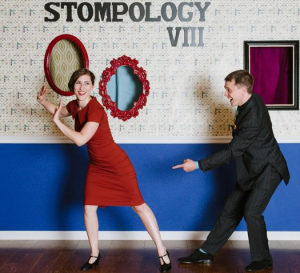 Melbourne and Madrid, he travels to small and large scenes tailoring fun workshops to the organizer's needs whether in Wichita, Porto, Zurich, London, Atlanta, or Zagreb. His classes are known for being fun, detailed, and technique. As a teacher, Kenny strives to engage students through visual examples, exercises, and good energy. He believes that classes should be fun, rewarding, and incorporate much dancing and music. When he's not dancing, you can typically find him Crossfit training and practicing parkour, reading sci-fi and fantasy books, pursuing local cuisine, or planking random objects around the world.
Jesse Hanus began dancing in 2003, starting with ballroom and then moving smoothly into Lindy Hop. Her love of expressing herself to jazz and blues music keeps her interested ever since. Attending dance events around the US and Canada to teach, compete, perform, and DJ, she is passionate about spreading her love of dance to anyone willing to learn. Jesse holds titles from events like Midwest Lindy Fest, Followlogie, SparX, and Southern Belle Swing Bash in both solo and partnered divisions. She currently lives in Rochester, NY, where she is a member of Groove Juice Swing, organizing and running Stompology Authentic Solo Jazz Dance Weekend and their Steven and Virginie workshop weekend.