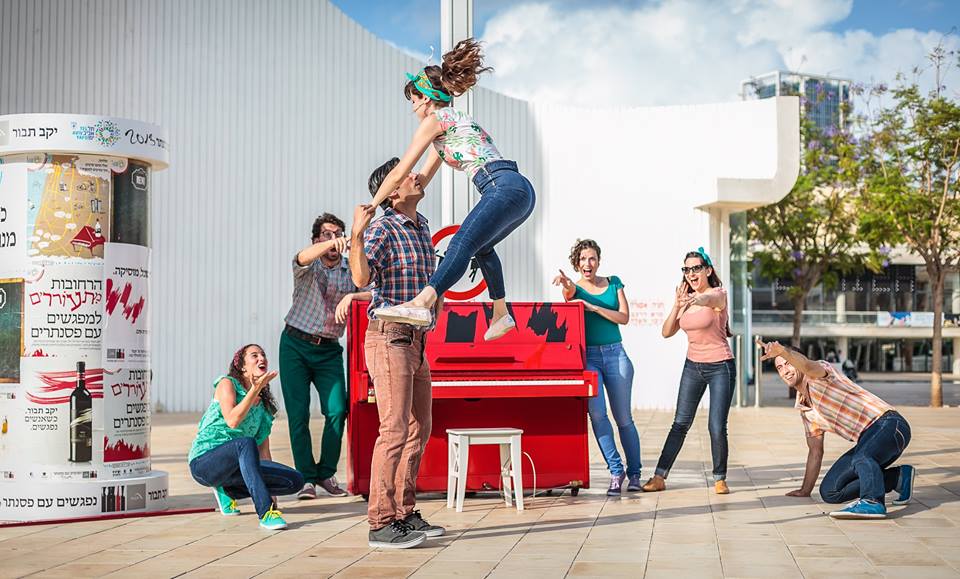 We are delighted to present to you two workshops with Eran and Claire from Berlin!
Balboa workshop 28 – 29 November
Big Apple workshop 5 – 6 December > FULL
Read more information bellow and register HERE
SCHEDULE
Balboa Workshop 28–29 November
Mixed level partner dance course
Location
Art & Sport
22 Rue de Hollerich
Sat 28 Nov
10.30 am – 12.45 pm Classes
12.45 – 14.30 Lunch break
14.30 – 16.45 pm Classes
Sun 29 Nov
11.00 am – 13.15 Classes
13.15 – 15.00 Lunch break
15.00 – 17.15 pm Classes
Big Apple Workshop 5 – 6 December  > REGISTRATION IS FULL
Solo Jazz group routine
Location
Dance Salsa
1-3 Rue D'Eich L-1461 Luxembourg
Sat 5 Dec
13.00  – 15.00 Classes
15.00 – 15.45 Break
15.45 – 17.45 pm Classes
Sun 6 Dec
11.00 am – 13.15 pm Classes
13.15 – 15.00 Lunch break
15.00 – 16-15 Classes
---
PARTY
Sat 28 Nov
9 pm – 11.45pm Luxembourg's very first Balboa & Shag Party!
Location
Fonzie's Diner
139 Avenue du Bois, Luxembourg
---
PRICES
Balboa Workshop (8 hours of classes) – 50 €
Big Apple Workshop  (8 hours of classes) – 50 €
Saturday 28th November party – free

---
DESCRIPTION OF THE WORKSHOPS



Balboa
This is a progressive workshop: Eran and Claire will take the dancers from zero (or basic) to be able to dance basic Balboa movements to even fast tempos. Balboa is a partner dance designed for packed ballrooms. Ready to take on the challenge? The pace of this workshop and the level that will be achieved depends on you!
Perfect for those who have never done Balboa, who tried it out for a few weeks and for those who are more expert, but feel like they might use some revision.
For this occasion, Luxembourg is organizing its first Balboa party ever! Don't miss it!
Big Apple Routine
Have you ever been to a great festival, having the best time ever during the party and then suddenly feeling lost? That song starts playing or one dancer decides that the tune the band is playing is cool enough to do the Big Apple Routine on it and you simply step back from the dance floor, head down, not able to join in. This will never happen again! Eran will rescue us all.
This workshop will focus on the Authentic Jazz necessary to be able to dance the Big Apple! Eran will guide us through the steps and will help us learning this amazing routine… and maybe more? Come and see!
Perfect if you already have some authentic jazz moves in your repertoire, even better if you are new to the world of solo jazz: no better way to fall in love with it!
---
ABOUT THE TEACHERS
Claire started to dance Swing in Berlin 9 years ago. There were about 50 dancers in the city. She grew with the scene and loves swing dancing. She studied Arts Management and started to organise different kind of swing events. She went back to her home city Taipei and found people to build up a dance scene together, which is still growing now. Now she owns her Swing Dance School in Berlin. Claire wrote her diploma thesis about swing revival in Berlin and Potsdam and is one of the Swing-Revival-Expert in Germany. In the past two years, she came back to her beloved Arts Management and worked with -Lange Nacht der Museen Berlin-, -Grünen Salon-, National Theater in Weimar, -Swing up the backyard- and different organisations or agencies to spread this fun Swing culture. Do you want to know about her? Check out her wesbite: www.danielandclaire.net
Dancing Swing since 2007, Eran has dedicated most of his time to traveling, dancing and spreading the Swing spirit in Israel. Since 2009 Eran has been teaching Lindy Hop, Charleston, Balboa, Vernacular Jazz, Acrobatics and Blues and he co-founded, with his business partner Shirley, one of the most successful Dance school today – Holy Lindy Land in 2010. In 2013 Eran moved to Berlin to pursue his passion to travel and spread the love for the dance across Europe & beyond. Eran holds several titles in Lindy Hop, Balboa and Blues from events like the International Lindy Hop Championships, Lindy On The Rocks, Berlin Blues Explosion, Camp Hollywood and the European Swing Dance Championships, and has been performing with some of the hottest swing and Dixieland bands in Israel. Eran strongly believes that great partner dancing comes from great body movement; his classes will help you find that magic when you and your partner move as one to the music. You will find out that behind his soft smile there is a tough teacher who won't stop until you feel you got it right.