We are delighted to present you our
AUTUMN SOLO JAZZ SESSIONS
with Helena Kanini Kiiru

Friday 10th to Sunday 12th November 2023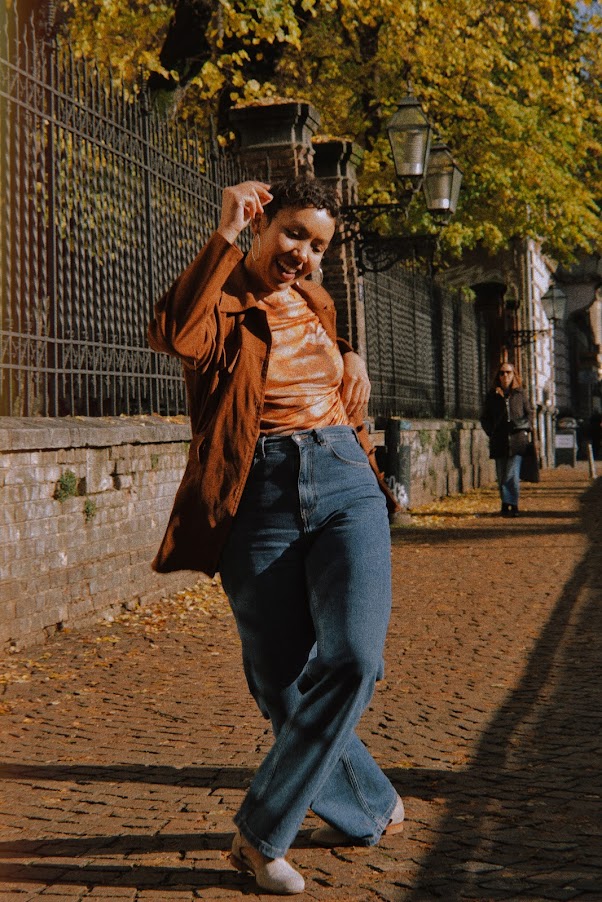 Helena Kanini Kiiru is coming  to Luxembourg for a full weekend of solo jazz sessions!
We have designed different options for you. Please read the descriptions carefully and choose your track and/or special classes according to your dancing level and your schedule!

Choreography Training (4h)
Join Helena for a fun and intensive 4-hour-Choreography Training. This class is open to all dancers who have a broad and solid solo jazz repertoire, after at least 3 years of practice. You are comfortable learning routines and challenging rhythmical patterns. You are ready for a challenge!
This training takes place on Saturday and Sunday morning, from 10h30 to 12h30.
Special classes
Blues (1h)
We will start the weekend with a special Blues class! Join Helena for a journey to bluesy rhythms. Explore your body movement, your rhythms and your feeling for the music. For this class, you should have at least basic knowledge of blues.
This class takes place Friday evening, from 20h30 to 21h30.
Rhythm, feel & groove of the Charleston (1h30)
Charleston, here we go! Let's work on our fundamentals in Charleston, the rhythms and its groove. Body-movement, playfulness, groove and some variations are on the menu! For this class, you should have at least basic knowledge of charleston.
This class takes place Saturday afternoon, from 13h45 to 15h15.
Qualities of Body Movement (1h30)
Take your solo dancing to the next level by engaging your full body in your movement. Helena will take you on a journey to discover your dance body through different qualities of movement. For this class, you should have at least basic knowledge of solo jazz.
This class takes place Saturday afternoon, from 15h30 to 17h00.
Improvisation & Flow  (1h30)
Let's go back to fundamentals of rhythm and movement and let's make improvisation joyful (again)! Reconnect with your own dancing needs and reclaim your flow! This class is all about finding flow and joy in improvisation, feeling good in our bodies and in our own self expression when improvising. Helena will empower you to be yourself while dancing and improvising. For this class, you should have at least basic knowledge of solo jazz.
This class takes place Sunday afternoon, from 13h45 to 15h15.
Schedule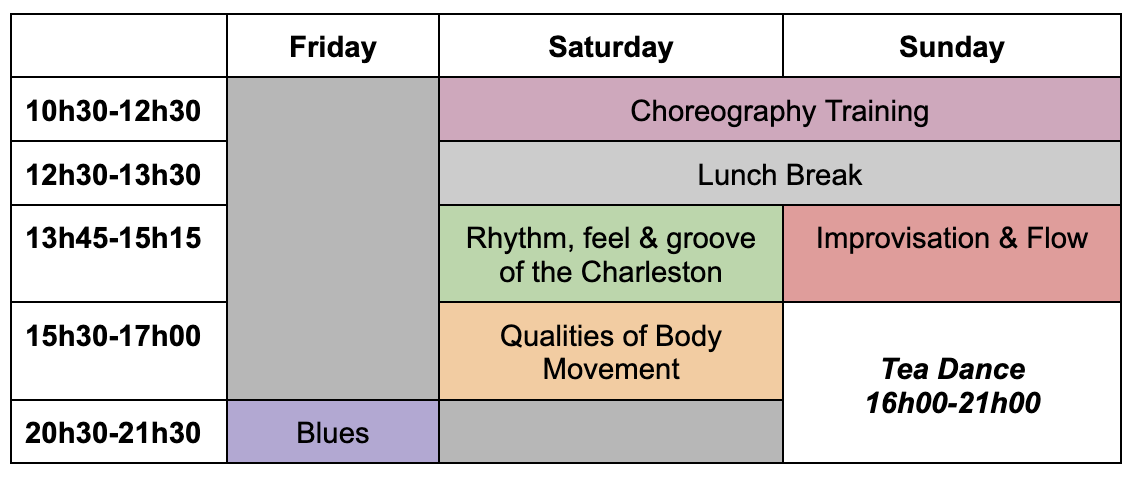 After the classes on Sunday, join us for a Tea Dance for a cosy closing of our special event with Helena !
Prices and Registrations
Choreography Training (4h00): 70€
Special classes:
Blues (1h): 20€
All other classes (1h30): 30€
When you register for more than one of the special classes (that is classes other than Choreography training), a reduction of 5€ for each supplementary class applies.
Please note that, when you sign up for several special courses, our registration system cannot automatically indicate the reduction. Be assured that the correct prices are the ones mentioned here above.
Location
All Saturday and Sunday classes as well as the Sunday Tea Dance will take place in Altrimenti. See you in Salle Rheinsheim, which is the main room where we usually dance in Altrimenti. As for the Friday blues class, the location will be confirmed at a later stage.
ℹ️ We're lucky that the rooms in Altrimenti have a proper and good wooden floor. In order to protect that floor, indoor shoes are required for all dancers! Please make sure to wear shoes that do not leave marks on the floor.
Teacher
Helena Kanini Kiiru is a young dancer and teacher from Zagreb, Croatia. Her enthusiasm for music and dancing has been evident since her childhood when she started playing piano at the age of 7. Having Kenyan roots in her family, Helena has always been exposed to African music, which stimulated her sensibility for the rhythm. Very soon she started developing interest towards dances like Hip Hop, House and Dancehall. After 8 years of exploring various Street dance styles, she saw African American Jazz dancing and immediately felt that it speaks to her on a very deep level. Helena feels that Jazz created an opportunity for her to meet and express all the deep parts of herself that made her expand and grow. She believes that Jazz gives us a space where we can unapologetically be ourselves while transcending the body, spirit and music. Helena finds it very important to acknowledge the historical context behind this dance and she's constantly busy finding new approaches to bring values of African American culture to her classes.
She has competed often and some of her bigger competition achievements were accomplished at ILHC 2020, where she won a 1st place at Invitational Solo Jazz.
Currently based in Amsterdam, she continues to teach locally, internationally and online. She endlessly continues to fuel her inspiration with various other dance styles. Her passion for mindful and liberating movement motivated her to begin a Teachers Training in Feldenkrais (Awareness through movement method). Having a lot of experience in movement from different perspectives makes her teaching style very extensive and playful.
Helena is currently on a mission to spread her aspiration and passion for African American Jazz dancing in hopes of contributing to its beautiful existence. Her huge wish is to connect Jazz and Street dance communities and bring this dance to street jams and clubs!